Anna Summersett, partner of the law firm Varghese Summersett, was recognized Thursday night for being a finalist in Fort Worth Inc.'s Entrepreneur of Excellence Awards.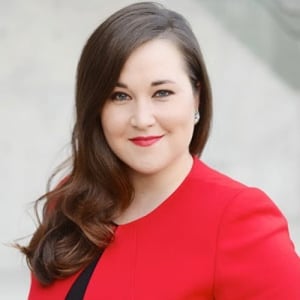 Summersett, who was nominated in the Professional Services category, was among 32 finalists and winners celebrated during a banquet at the Cendera Center in Fort Worth. Her law partner and now husband, Benson Varghese, was a 2017 EOE finalist.
"I am honored to be among such an esteemed list of entrepreneurs in the greater Fort Worth area," Summersett said. "Five years ago, when Benson and I started the firm, we vowed to provide unparalleled legal services to individuals who trust us with the most serious problem in their lives. This client-first mentality served us well. Today, we are the largest and fastest-growing criminal defense firm in North Texas. Our goal is to continue to provide superior service to this community and create a legacy of pursing justice."
Fort Worth Inc.'s Entrepreneur of Excellence Awards Program recognizes and honors entrepreneurial owners of private companies in the Fort Worth area. The award recipients are leaders in the companies' sales and profit growth, ethical business practices, innovation, perseverance and community involvement.
At age 33, Summersett's accomplishments extend far beyond her years. After receiving her law degree in 2009 from Texas Wesleyan University School of Law (now Texas A&M University School of Law) she served as a prosecutor for the Cameron County District Attorney's Office and the Tarrant County District Attorney's Office. While serving as a prosecutor in Fort Worth, Summersett became one of the youngest Texas attorneys to become Board Certified in Criminal Law, a distinction held by less than 1 percent of all Texas attorneys.
In 2014, Varghese and Summersett left their jobs as prosecutors and formed Varghese Summersett PLLC. Realizing the need for strong, aggressive, ambitious defense attorneys in North Texas, they created a team of experienced, high-caliber lawyers. The team prides itself on going the extra mile to be the best in their field. Last year, Varghese Summersett was named the sixth fastest-growing company in Fort Worth and the 782nd fastest growing company in the country.
Summersett is also a member of numerous legal and community organizations and is heavily involved in philanthropic activities, such as Habitat for Humanity and WORTH.
Last year, Varghese Summersett received the Law Firm Pro Bono Award from Tarrant County Volunteer Services for the firm's work assisting indigent people who can't afford an attorney. And last month, the firm again awarded scholarships to students with autism and Down syndrome, an annual cause established in honor of two of the firm's senior attorneys who have children with special needs.
Since its inception, Varghese Summersett has adhered to a family-first philosophy. And now, the husband-wife executive team are seeing the importance of that in a whole new light. In March, they welcomed their first child, Knox.