Texas A&M University School of Law Professor Saurabh Vishnubhakat demonstrates the university's pledge to prepare its students for leadership through law. In this case, it's "do as I say and AS I do." Professor Vishnubhakat is the chair-elect for the executive board of the Association of American Law Schools (AALS) section on Intellectual Property.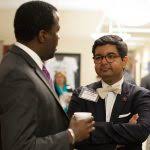 In addition, he is a part of the three-member IP Resource Committee for the Southeastern Association of Law Schools, runs the IP & IT Conferences website, coordinated a public comment by law professors in response to a Patent Office regulatory proposal earlier this year and testified before the Federal Trade Commission this fall.
When asked what drew him to law, Vishnubhakat says:
I have always been attracted to intersections between disciplines. My prior studies in chemistry combined traditional laboratory analysis with computer science to address biological challenges such as drug targeting and protein folding. Curiosity about patenting scientific discoveries led me to the even broader opportunity to combine scientific literacy with legal training. What keeps me engaged is that legal fields also intersect with each other in rich and often unexpected ways, just as scientific fields do.
About Texas A&M School of Law
Texas A&M School of Law is an American Bar Association-accredited institution located in downtown Fort Worth. In 2013, the law school acquired Texas Wesleyan University School of Law and has increased faculty and students exponentially in its five-year existence. The law school ranks highly nationwide in dispute resolution and intellectual property and offers 11 clinics that introduce students to real-world applications of the law. For more information, visit law.tamu.edu.
About Texas A&M University
Texas A&M, established in 1876 as the first public university in Texas, is one of the nation's largest universities with more than 66,000 students and more than 440,000 living alumni residing in over 150 countries around the world. A tier-one university, Texas A&M holds the rare triple land-, sea- and space-grant designation. Research conducted at Texas A&M represented annual expenditures of more than $905.4 million in fiscal year 2017. Texas A&M's research creates new knowledge that provides basic, fundamental and applied contributions resulting, in many cases, in economic benefits to the state, nation and world.