The Texas A&M Immigrant Rights Clinic filed a petition in federal court in May demanding that ICE immediately release 11 medically-vulnerable immigrants from the Prairieland Detention Center in Alvarado, Texas. There are at least 45 detained individuals who tested positive for COVID-19. Professor Fatma Marouf, Adjunct Professor Sehla Ashai and students Teresa Reyes Flores, Marisela Gonzales, Mario Guerra, Maria Jose Rosales Lagos and Emily Malden, joined forces with RAICES and the civil rights firm Loevy & Loevy in bringing the case forward.
Meet the Texas A&M Law students supporting the cause.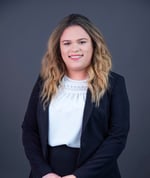 TERESA REYES-FLORES (2021)
Q: How did you get involved with the Immigrant Rights Clinic?
A: I was always interested in the Clinic and was a law clinic student in the spring and will be a continuing clinic student in the fall.
Q: What was your role assisting staff attorneys?
A: I helped interview detainees at Prairieland Detention Center and helped edit and translate a form and documents at the beginning of the process.
Q: What part of this experience made it real for you?
A: Definitely the interviews, especially when detainees, who were not talking to each other, were explaining similar situations in the detention center, and I could just feel the uncertainty and fear in their voices.
Q: What surprised you the most about the entire process from start to somewhat finished?
A: How although I was helping the clinic, there were more advocates from different organizations and firms helping even if I did not get the chance to interact with them,
Q: What is one thing you think the public should do?
A: To continue supporting organizations and advocates that fight for immigrant rights either through donations, volunteering, or simply sharing their mission and campaigns on social media or with friends and family.
"Most of us are able to shelter at home and take the necessary precautions to avoid being exposed to COVID-19, but the detainees, especially those at-risk, are not able to make that decision for
themselves when they are placed in detention centers where there is not enough space for social distancing or proper sanitation products, masks, or gloves available. Instead they are forced to share dorm rooms and eat in their beds during this pandemic. I believe this is inhumane and the outbreaks in detention centers will continue to grow unless detainees, especially those medically vulnerable are released. Therefore, when the opportunity to help with the Praireland Detention Center litigation arose, I was interested in assisting the attorneys.

Reyes-Flores: "The experience I received during my semester in the clinic and the Prairieland Detention Center litigation further piqued my interest of being an advocate, as a law student and in my future career, for vulnerable communities, especially the immigrant community."
---
MARISELA GONZALES (2022)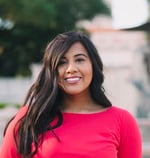 Q: How did your involvement with the Immigrant Rights Clinic begin?
A: I was selected as a 2020 Public Interest Fellow, and I knew I wanted to work in immigration law this summer. I wanted to explore how attorneys solved the kinds of problems I heard about while working with an immigration crisis hotline in Austin. As the daughter of an immigrant, I feel a personal connection to the plight immigrants face in our country and want to work to protect vulnerable members of the community that struggle to find a path to citizenship.
I heard about the summer internship with the Immigrant Rights Clinic through the Career Services Office. I applied, and the more I heard about the work of Professor Marouf and Professor Ashai, the more eager I was to get started. We hit the ground running the weekend after my last final, and I could not be happier with the work we are doing and the team I am a part of!
Q: What was your role assisting the staff attorneys?
A: I spoke directly with detained individuals in the Prairieland Detention Center. I conducted interviews where I got to hear each individual's immigration story, their experiences within the detention center and the struggles they faced in securing proper medical care. The interviews helped us determine whether or not the potential client would be a good candidate for the habeas corpus we planned to file to demand the release of medically-vulnerable individuals within the facility. I worked with clients to make sure their voices were reflected in the declarations we drafted. The interviews I conducted were all in Spanish; so, I worked as a translator for the staff attorneys, providing detailed notes of each interview in English and translating those notes into declarations which I would read over with the clients, making adjustments as needed to ensure accuracy. I also continued to work with the clients to make sure they understood the work we were doing and relayed any questions or concerns they had to the attorneys on staff. Additionally, I contacted our clients' family members who assisted us with their loved ones cases when communication became difficult for our clients. I drafted important client letters in both English and Spanish. I even got the chance to participate in meetings where I was able to voice my thoughts to the attorneys working on the case and assist in decision making.
Q: What particular part of the journey made you say or think – WOW? What made it real for you?

A: I think this entire process has felt very real to me. It has even had me talking to members of my family who are currently legal residents about exploring a path to citizenship. However, I think what really made my role in the case feel real was when I saw my name in the documents we submitted in federal court. It's hard to wrap my head around the idea that I am making a difference, all while being at home on my laptop.
Q: What is the biggest lesson you will take from this experience professionally?
A: I think interning with the Immigrant Rights Clinic has really helped me become a better writer. I was an English major so I am no stranger to writing, but legal writing is a different beast. Being able to draft legal documents and get individual feedback from the attorneys on staff has been tremendously helpful. Now a declaration I helped draft and translate was filed in federal court.
Q: What is the biggest lesson you will take from this experience personally?

A: I think the most important lesson I have learned so far is how to cope with the trauma associated with legal work. The clients we work with are going through extremely difficult and emotional times in their lives. Through our clients we hear about the trauma that ICE has put them through and the toll it takes on them and their families. One day after a particularly tough call with a client I found myself crying. Instead of ignoring the fact that I was clearly being affected by the work, I picked up the phone and called a longtime friend of mine that used to work in the ICU. I asked her how she did it, how she saw trauma everyday and got past it. She calmed me down and told me that in time I would learn how to use my emotions to fuel my passion for my work and I think since that call I have. I was given the opportunity to work with two incredible female attorneys and my closest law school friend. Being a part of a team that has such clear lines of communication and looks out for one another has been the biggest blessing. I think this internship has provided me with the best case scenario for learning a very hard lesson. I feel very grateful to have learned to cope with the trauma that comes with legal work with the support of my colleague and an incredibly understanding and supportive team.
Q: What is one thing you think the public should know?

A: The public should know about the conditions immigrants face in the detention centers day after day so that they may use that information to make these centers a thing of the past.
---
MARIO GUERRA III (2021)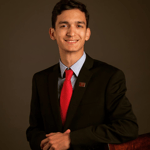 Q: How did your involvement with the Immigrant Rights Clinic begin?
A: Following my summer internship with an immigration law firm, I decided that I wanted to hone my knowledge of immigration law, and found that helping out at the IRC was the best way to continue practicing this area of law.
Q: What was your role assisting the staff attorneys?
A: Speaking with detainees over the phone to get a better picture of what conditions look like at Prairieland Detention Center.
Q: What particular part of the journey made you say or think--WOW? What made it real for you?
A: The fact that the detainees were saying that even the medical staff at the detention center were telling them that they hoped they would get released so that they could get the medical attention they require. Clearly, the detention center staff was self-aware of the lack of resources made available to them by the private owners of the detention center.
Q: What is the biggest lesson you will take from this experience personally?
A: This experience further solidified my view that everyone makes mistakes, and being incarcerated does not mean you should be deprived of basic human needs. Everyone has a story, and I will always be willing to listen to their stories.
Q: What is one thing you think the public should know?
A: That private prisons do not afford detainees basic necessities for free. Many detainees are exploited for labor, and many amenities are not provided to cut costs. These are symptoms of the greater problem of privatizing prisons and detention centers.
Generally, the public must start to push for criminal justice reforms, including addressing the issue of privatization of prisons and detention centers. At the very least, the public must start addressing the fact that detainees are being put at risk because the private owners of these detention centers do not want to pay to provide new masks every week, do not want to pay to clean the vents weekly, etc.
Guerra: "Now more than ever detainees in Prairieland Detention Center need the attention of those who can lend a helping hand. There is a grave danger present in detention facilities around the nation regarding COVID-19, and the lack of efforts to mitigate the spread of this virus in these facilities. A big difference can be made in the lives of detainees if everyone brings attention to this issue, and do what they can to help stop the spread of the virus."
---
MARIA JOSE ROSALES LAGOS (2022)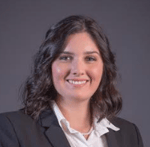 Q: How did you get involved with the Immigrant Rights Clinic?
A: I applied for a summer internship through the law school to get involved and do some pro bono hours. The spots were filling up quickly, and I was blessed with the opportunity to work with the Immigrant Rights Clinic, my top preference. I am enrolled to work with IRC for fall 2020 and have been interested in its work since I started 1L.
Q: What was your role assisting staff attorneys?
A: I contacted the detainees and their family members to obtain information to help us determine if they were a good fit for this habeas. All of my clients were Spanish speakers, and I was able to communicate with them and translate their statements to draft their declarations (criminal history, immigration status, background, conditions at detention center, etc). I continue to communicate with detainees and relatives to keep them updated on the process and request more information or provide them with resources as needed.
Q: What part of this experience made it real for you?
A: The WOW moment is the relief in their voice to speak in their native language as they trust me enough to share their story. Knowing that you are working to help a real life client whose family you have been in contact with, and whose story you have learned about - is priceless!
Q: What is the biggest lesson you will take from this experience professionally?
A: All facts matter, and it is very important to get the whole story about your client, to get all the facts whether favorable or not, to be prepared and serve them to the best of your ability, whether that means building a good case or denying representation.
Q: What is one thing you think the public should do?
A: We need to be open-minded and educate ourselves. Regardless of controversial topics that can divide us at times, we are all human, and we all have rights. People held at detention centers are human beings that do not deserve to live in the conditions they are exposed to. We have to put things into perspective and be open to putting ourselves in their shoes.
---
EMILY MALDEN (2021)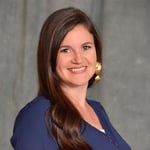 Q: What particular part of the journey made you say or think – WOW? What made it real for you?
A: Reading the client's file and then meeting the client was an important moment for me. One client's story was harrowing, and shaking her hand was really a humbling moment for me. I was profoundly grateful to help someone who had been through so much. Also, conferencing with my colleagues in seminar and hearing the stories of their clients was also a powerful moment; collectively, we were helping a lot of deserving families and individuals.
Q: What is the biggest lesson you will take from this experience personally and professionally?
A: Interviewing detainees with the Texas A&M School of Law Legal Clinic allowed me to hear firsthand the hardships endured by immigrants in detention. Law students should understand as much as possible about this power of the law to deprive a person of freedom because lawyers have unique access, and a lawyer should acknowledge the unique difficulty of detention.
On a professional level, understanding the realities of detention is important to clarify the lawyer's role as an advocate. Imprisonment in any form is pervasive: restrictions on movement and various other choices are compounded because a detained person has no right to privacy; most communications are openly monitored. But conversations with a lawyer are different—confidential. Confidentiality is a key privilege in any circumstance, but when a client is in detention this confidence takes on a whole new level of importance: a confidential conversation with a lawyer is one of very few freedoms granted to a detained person. A lawyer is likely the only person a detained client can tell important details about conditions or injustices occurring in the facility. This reality places the lawyer in an important role to advocate for justice and one of only a few who can tell the stories of those living in detention.
But beyond the important professional value, hearing these stories highlighted that detention is a profound punishment. Detainees are not merely prevented from leaving the facility, but they are also often denied basic medical care, adequate clothing and basic sanitation. And, they can also be under the care of people who do not see them as fully human or worthy of dignity. It is well worth a law student's effort to try to understand these realities of detention. One detainee I spoke with had never been charged with an offense beyond a civil immigration violation—yet he was subjected to the extreme punishment of detention. I could hear his distress and confusion as he answered my clinical questions. The legally relevant information was key to finding relief for him, but it was also important that I acknowledge the difficulty of his circumstances and offer some empathy.
Q: What is one thing you think the public should know?
A: TAMU Law Legal Clinics are doing amazing work. The Immigrant Rights Clinic is helping some of the most vulnerable in the DFW area. Specifically, the ICR takes on complex cases that many non-profits cannot tackle. I think the public should reach out to the immigrants in their communities—not just to help or give charity but to develop friendships. These are remarkable families and individuals that have left their homes and all that is familiar to start new lives in the U.S. They are interesting, wise and delightful; your life will be richer for knowing them.
Malden: "The Immigrant Rights Clinic was a feature of Texas A&M School of Law that drew me to enroll there despite scholarships to study elsewhere. While working with the Clinic I had the chance to interview detainees at Prairieland Detention Center. These conversations opened my eyes to the profound difficulty immigrants face in detention centers—especially in the time of a pandemic. My commitment to serve immigrants after graduation is stronger than ever."
---
To learn more about the work of the Immigrant Rights Clinic, click here.