Registration is now open for Texas A&M University School of Law's annual Dispute Resolution Symposium – ADR's Place in Navigating a Polarized Era - on March 20, 2020.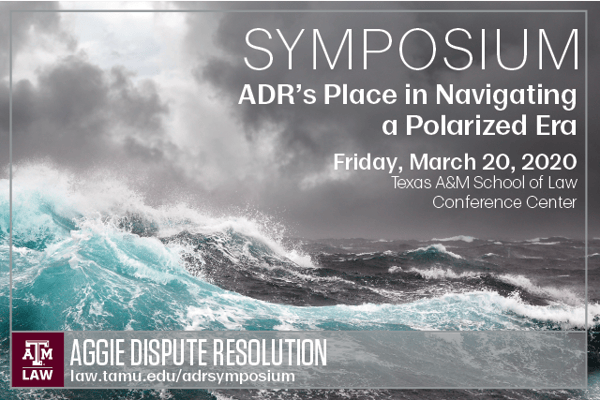 Presenters include:
Professor Kevin Barge, Texas A&M University, Department of Communications
Professor Jonathan Cohen, University of Florida, Levin College of Law
Professor Jill DeTemple, SMU, Department of Religious Studies
Professor Noam Ebner, Creighton University, Department of Interdisciplinary Studies
Professor Deborah Eisenberg, University of Maryland, Frances King Carey School of Law
Howard Gadlin, former Ombudsman and Director, Center for Cooperative Resolution, National Institutes of Health
Professor Sharon Press, Mitchell-Hamline School of Law
Professor Jennifer Reynolds, University of Oregon, School of Law
Dean Nancy Rogers, The Ohio State University, Moritz College of Law
During the symposium, consideration of recent data regarding polarization in the U.S., the conditions that are needed for dialogue, real-life examples of the thinking and skills required to navigate a polarized era, whether and how alternative dispute resolution scholars need to revise their understanding of what it means to engage in "ADR thinking and skills" - and what all of this means for the legal community, students and communities.
About Aggie Dispute Resolution at Texas A&M University School of Law
Today, the vast majority of legal disputes are resolved outside the courtroom through dispute resolution. Expert negotiation, mediation and arbitration skills are absolutely vital to the practice of law in the 21st century. Dispute resolution is a part of every area of practice, from family law to business and criminal law. Indeed, even trial lawyers must be familiar with dispute resolution processes given that the overwhelming majority – over 96% in Texas -- of both civil cases and criminal cases don't go to jury trial and are resolved through dispute resolution procedures. Texas A&M School of Law's nationally ranked Aggie Dispute Resolution Program, #1 in Texas, offers a strong, practical foundation to build these critical skills. To read more, click here.