Texas A&M University School of Law Dean Robert B. Ahdieh addressed members of the Fort Worth Rotary Club today, sharing school achievements, illustrating a vision of the road ahead and praising the Fort Worth community for its unwavering support.
Ranked #80 by the U.S. News and World Report, Texas A&M University law school has experienced a meteoric rise in rankings in it's five-year existence, since acquiring Texas Wesleyan Law School. Ahdieh walked through performance statistics that will help launch the school upward in future rankings. Texas A&M University School of Law:
Ranks #7 in intellectual property studies
Ranks #12 in dispute resolution studies
Garnered $1.1 million in external research grants since 2017
Offers 11 clinics for students in need of real-world application
Has 35 placements in the top 50 legal journals since 2017
Has 11 American Law Institute members among its faculty
Has a 27 percent, minority faculty
With the largest and most diverse first-year class in years, the law school, according to Ahdieh, has made employee placement in the Dallas-Fort Worth Metroplex a priority.
"There may be enough lawyers, but not enough Texas A&M lawyers," said Ahdieh.
He also expressed a desire to take the time to help Texas A&M students find their professional identity so that more diverse contributions to society can be made.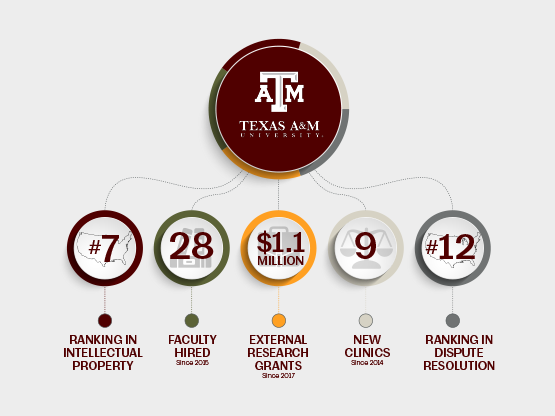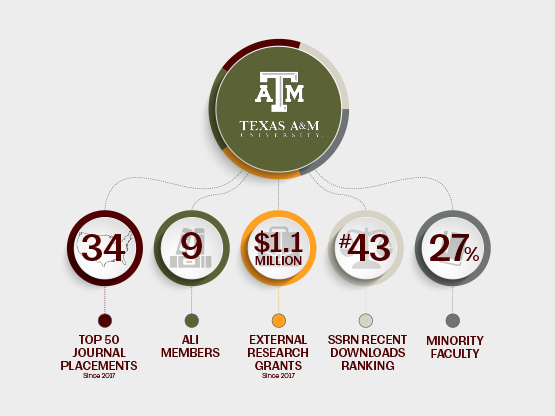 About Texas A&M School of Law
Texas A&M School of Law is an American Bar Association-accredited institution located in downtown Fort Worth. In 2013, the law school acquired Texas Wesleyan University School of Law and has increased faculty and students exponentially in its five-year existence. The law school ranks highly nationwide in dispute resolution and intellectual property and offers 11 clinics that introduce students to real-world applications of the law. For more information, visit law.tamu.edu.
About Texas A&M University
Texas A&M, established in 1876 as the first public university in Texas, is one of the nation's largest universities with more than 66,000 students and more than 440,000 living alumni residing in over 150 countries around the world. A tier-one university, Texas A&M holds the rare triple land-, sea- and space-grant designation. Research conducted at Texas A&M represented annual expenditures of more than $905.4 million in fiscal year 2017. Texas A&M's research creates new knowledge that provides basic, fundamental and applied contributions resulting, in many cases, in economic benefits to the state, nation and world.