The below message was sent by Dean Bobby Ahdieh to the Texas A&M Law student body on May 31, 2020 – six days after the horrifying and unnecessary death of George Floyd in Minneapolis, Minnesota.
Dear Students,
Scattered though we are in these strange times, our Law School community stands together for equal justice.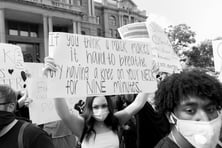 We can take some strength from that as we mourn the heartbreaking death of George Floyd, an unarmed African-American man – and former student at Texas A&M Kingsville – beneath the knee of a white police officer in Minneapolis.
On the screens that have become so central to our lives, we have all seen the alarming scenes: the shocking conduct of the police officer involved, the pleading of bystanders, and now the angry and frustrated response in cities across our nation, including Dallas and Fort Worth. As we see those images, I hope we will also strive to see the pain of those around us. In minority communities, there is an understandable fear of authorities. That is wrong and must be changed.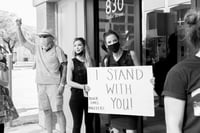 Both as lawyers and as Aggies, we are called upon to be part of that change – to build and to help uphold a legal system that protects each and respects all. We have much work to do to get there. I hope our Law School community can play its vital part in that journey.
Yours,
Bobby
Photo credit: Chad Ballenger, https://flic.kr/s/aHsmNGVAsv