On November 24, 2020, Texas A&M Law Professor Irene Calboli was one of the distinguished speakers to address the Information Session on Geographical Indications. The online session was part of the 43rd Session of the Standing Committee on Trademarks, Industrial Design, and Geographical Indications (SCT) of the World Intellectual Property Organization (WIPO).

From upper left: WIPO Room A; Prof Calboli; Mr. Benjamin Fontaine, ECTA; Mr. John Rodrigues, USPTO;
Mr. Alfredo Carlos Rendón Algara, Chair of the 43rd SCT; Mr. Marcus Höpperger (WIPO)
The SCT facilitates a forum for discussion and provides guidance for all member states of WIPO or the Paris Union for the Protection of Industrial Property on issues related to the development of international law on trademarks, industrial design, and geographical indications (GIs).
Professor Calboli presented remarks on the topic of bad faith registrations and the use of GIs as domain names. Resolution of conflicts in this arena continue to present a host of unresolved issues due to the non-territorial nature of the Internet.
Professor Calboli was also invited to share her views on the panel dedicated to the topic of GIs and domain names at the two-day Conference on Strengthening Geographical Indications organized by the European Union Commission on November 25-26, 2020.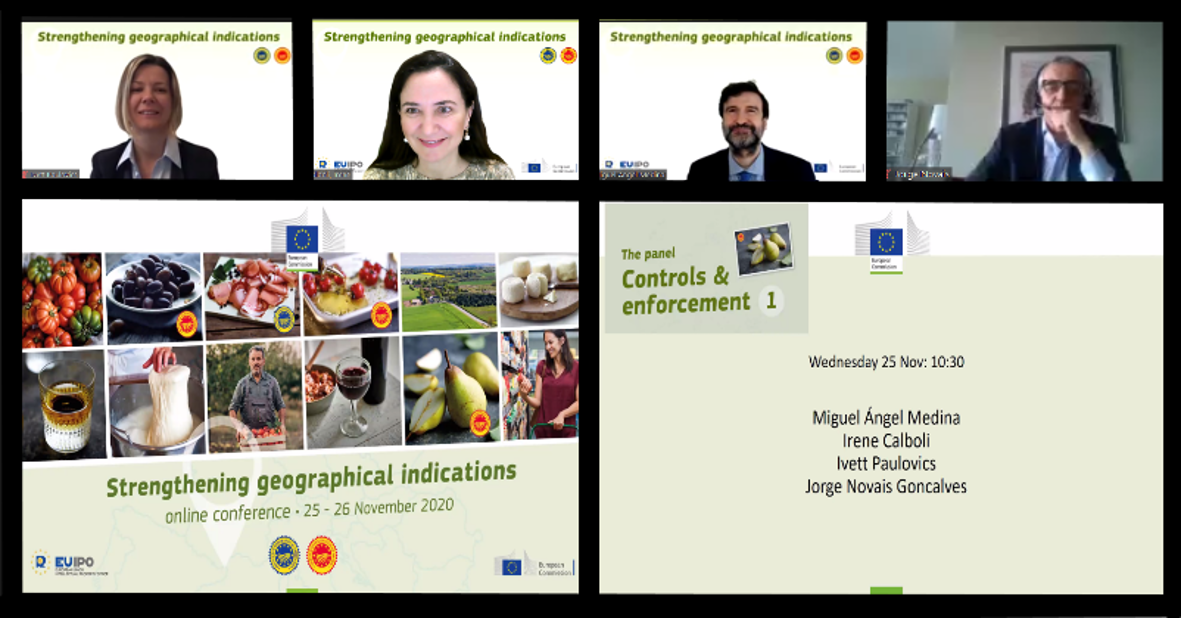 From upper left: Ms. Ivett Paulovics, Fasano Paulovics Società tra Avvocati; Professor Calboli; Mr. Miguel Ángel Medina, Associate Partner Trademark Department Elzaburu; Mr. Jorge Novais Goncalves, Directorate General for Internal Market, Industry, Entrepreneurship and SMEs, European Commission
Professor Calboli has published books and many articles on the topic of GIs and is widely recognized as one the most preeminent expert scholars in the field. One of her books, Geographical Indications at the Crossroads of Trade, Development, and Culture: Focus on Asia-Pacific (Cambridge University Press, 2017, with W.L. Ng Loy), is an open access volume that has received 47,000 downloads since its publication. She is regularly invited to speak on the topic by universities, international organizations, and national IP offices. She has also been an expert advisor to the WIPO, the EUIPO, the EU Commission, and has conducted multiple trainings for national IP officials, SMEs, and academics. Most recently, in December 2020, she was a keynote speaker for the second edition of training on GIs organized by the Universitas Padjajaran (Indonesia) in collaboration with the Directorate General of Intellectual Property of Indonesia & Indonesia-Switzerland IP Project, a project that she has supported since its inauguration in 2019.