The U.S. Department of State and the J. William Fulbright Foreign Scholarship Board recently announced that Professor Irene Calboli has been awarded a Fulbright-Hanken Distinguished Chair in Business and Economics for 2021-22 to lecture and research in Helsinki, Finland.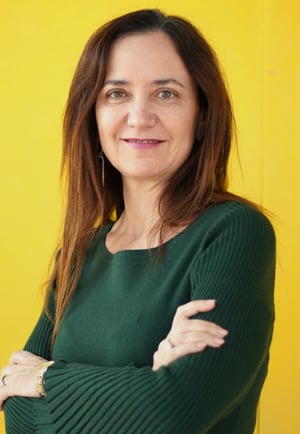 Calboli, an internationally known expert in Intellectual Property (IP) and Trade Law, will teach a seminar on IP Management at Hanken School of Economics, and continue her research regarding the concept of morality under U.S. and EU law trademark law and the relationship between IP and sustainable development.
"I am absolutely thrilled by this opportunity and grateful for the support and confidence of the Fulbright Program, the Fulbright Finland Foundation, and the Hanken School of Economics," said Calboli when asked about the award. "This year marks the 75th anniversary of the Fulbright Program, which makes this award even more special. The Fulbright Program promotes collaboration between U.S. scholars and scholars of other countries to foster international understanding through academic exchanges. The importance of this mission cannot be overstated. I very much look forward to collaborating with colleagues in Finland and across Europe next year, and continuing this collaboration for years to come."
The award is jointly funded by the Fulbright Finland Foundation and the Hanken School of Economics. The Fulbright Finland Foundation is an independent not-for-profit based in Helsinki, Finland. With the purpose of promoting a wider exchange of knowledge and professional talents through educational contacts between Finland and the United States, the Foundation collaborates with a range of government, foundation, university and corporate partners on both sides of the Atlantic to design and manage study and research scholarships, leadership development programs and internationalization services. Hanken School of Economics is a leading, internationally accredited university with over one hundred years of experience in education and research in economics and business administration.
The Fulbright Program is the flagship international educational exchange program sponsored by the U.S. government and is designed to forge lasting connections between the people of the United States and the people of other countries. Recipients of Fulbright awards are selected on the basis of academic and professional achievement as well as record of service and demonstrated leadership in their respective fields.
Awards in the Fulbright Distinguished Chairs Program are viewed as among the most prestigious appointments in the Fulbright Scholar Program. Approximately 40 distinguished lecturing, distinguished research, and distinguished lecturing/research appointments are awarded every year across all disciplines.
Fulbright recipients address critical global issues in all disciplines, while building relationships, knowledge, and leadership in support of the long-term interests of the United States. Fulbright alumni have achieved distinction in many fields. Fulbright alumni include 60 Nobel Prize laureates, 86 Pulitzer Prize recipients, and 37 who have served as a head of state or government.