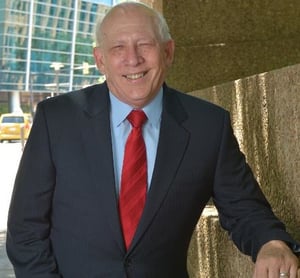 The American College of Commercial Finance Lawyers (ACCFL) has named Texas A&M University School of Law Professor William H. Henning, an ACCFL Fellow, as the recipient of the Homer Kripke Achievement Award.
According to the ACCFL website, the award "recognizes a career of noteworthy leadership and a history of exceptional dedication to the improvement of commercial finance law and practice. Award recipients have contributed to, and often changed the course of, commercial finance law and practice through activities that have had a lasting and significant impact."
In an email informing Henning of his selection, Norman Powell, Chair of the 2020-21 Harry C. Sigman Special Service & Homer Kripke Achievement Award Committee said, "the award is not given every year, and is given only to truly exceptional candidates. You join a most distinguished list of recipients."
"I just don't have the words to say how grateful I am," said Henning. "The ACCFL and its Fellows do extraordinary work and receiving this award is the honor of a lifetime."
Professor Mark Burge, a colleague who works closely with Henning said, "Bill's accomplishments in shaping and advancing the field of commercial law are legendary, ranging from the Uniform Commercial Code to law reform for developing nations and tribes. Yet, even as accomplished as he's been, I'd testify that Bill is even greater as a colleague. His scholarly wisdom and practical knowledge bring something special to both the classrooms and the hallways of Texas A&M. I know that I speak for many in the law school when I say how fortunate I am to count him as both a mentor and a friend."
The award will be formally conferred during the AAFCL's virtual annual meeting on Thursday, April 29.
More about the ACCFL:
The ACCFL's mission is to bring together into an association those highly qualified members of the legal profession who, by reason of their character, skill and ability, will contribute to the goals, accomplishments and good fellowship of the College. The College offers a venue to promote and recognize outstanding achievement and advances in the field of commercial finance law.