Texas A&M University President Michael K. Young and Provost and Executive Vice President Carol Fierke have selected Professor Milan Markovic as a 2019 Presidential Impact Fellow. This honor recognizes "continued development and excellence" in faculty and assists honorees to enhance their "transformational learning, discovery, innovation and impact." Presidential Impact Fellows are identified by their college and dean and confirmed by the academic leadership. Each is considered to be a candidate for continued, or new, national and international acclaim.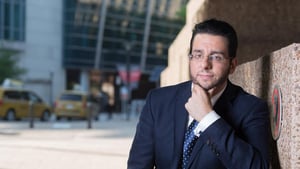 Markovic will receive use of the title Presidential Impact Fellow for life, an annual stipend and recognition at a reception in November. Markovic is a legal ethics and profession scholar who is currently studying lawyers' career trajectories and artificial intelligence's impact on the legal market.
"I have very supportive colleagues and am fortunate to be a part of a University that invests in its faculty," says Markovic.