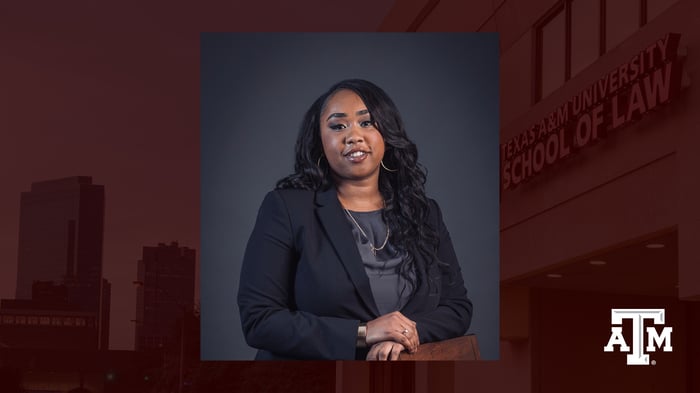 Tiffany Daniels '22 journey to law school wasn't traditional, but that didn't stop her from breaking down barriers and making a difference as a prosecutor.
The Richmond, Va. native, is a self-described introvert, and a mother to two daughters. Through her own perseverance, she earned her J.D. from Texas A&M University's School of Law in 2022, and she now serves as an assistant city attorney and prosecutor for the Fort Worth City Attorney's Office.
Daniels' journey is one of perseverance, self-discovery, and pride — and she continues to pave her own way through distinct action and intentionality.
From Motivation To Representation
Daniels set her sights on practicing law as an undergraduate during her time at Liberty University as a forensic science major. She vividly recalled the 2012 death of Trayvon Martin and the subsequent trial of George Zimmerman as key memories for her that planted the seeds of wanting to make a change.
"Trayvon Martin's death was an eye-opening experience that sadly didn't stop with that one incident," Daniels said. "Following his death, a series of other police-involved deaths occurred that left Black communities feeling hopeless. The injustice opened my eyes to the need for more attorneys of color — specifically, Black prosecutors.
Motivated by these and similar events, Daniels chose to pursue a concentration in criminal law, justice, and policy. Prior to going to law school, she worked in healthcare administration for over 10 years. Her mother is a doctor, and so it made sense to loosely follow in her footsteps, Daniels said. However, Daniels admits she was still searching for something that better suited her passion.
Things began to shift for Daniels after she took her LSAT. She felt encouraged about the prospects and actively started looking into law schools. Despite being accepted for five different law schools, she felt strongly about attending Texas A&M Law early on. She recalled the law school's resources, location, and scholarship opportunities as strong factors in her decision.
"I made a promise to myself to experience law school and not just 'make it through' law school," she said. "As a single parent of two girls, it was important for me to join a school that would help me balance my educational journey and family life. The course schedule was very flexible and the location of the school in downtown Fort Worth was convenient."
Additionally, Daniels recalled having a particular affinity for the Aggie Network and the university's core values. Selfless service aligned well with her approach to practicing law due to her ambition of doing right by those she aimed to represent.
"I chose this school because of the Aggie Network," she said. "It is truly surreal; the sense of community here is unparalleled. I felt more supported by my fellow Aggies than I have ever felt in my life."
Daniels soon measured up to her goal of truly experiencing law school. She was involved in multiple organizations including the Black Law Student Association (BLSA), Texas A&M Law Women of Color Collective (WOCC), and OUTlaw. She also served as a student ambassador, 1L academic support TA, Texas A&M Immigration Clinic participant, public interest fellow, and mock trial team member.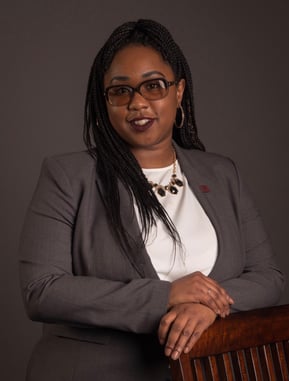 Service in Action
A local internship gave Daniels her first taste of utilizing her experiences to make meaningful changes in the legal community.
"My most interesting law school experience was working for the Office of the Police Monitor with the City of Fort Worth," she said. "I worked directly with the Fort Worth Police Department (FWPD) to assist the department and community members to rebuild trust and gain mutual understanding."
Her work assisted with the research and creation of FWPD's Restorative Justice Mediation Program, an initiative that will allow community members to mediate complaints made against Fort Worth police officers.
After graduating from law school, Daniels decided to stay in Fort Worth, feeling strongly that Texas was where she was meant to be. Since December 2022, Daniels has worked as an assistant city attorney and prosecutor for the Fort Worth City Attorney's Office. The role developed her skills in and out of the courtroom.
"I wanted a job that would teach me all of the necessities that an attorney should have such as how to file discovery, what to say during voir dire, how to file motions, and how to conduct a trial," she said. "It is definitely rewarding and meaningful work and I'm excited to see what new barriers I will break as an attorney and an individual."