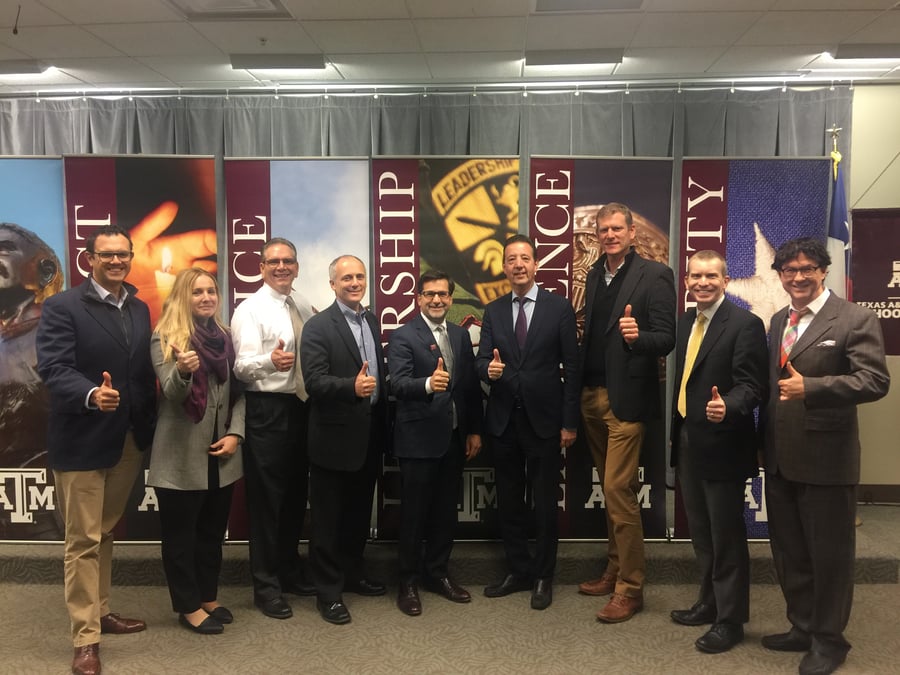 Texas A&M Energy Institute members met with Texas A&M University School of Law's Program in Natural Resources Systems Director Gabriel Eckstein, TAMU Law Dean Bobby Ahdieh and other faculty members this week. The group discussed collaboration opportunities.
Texas A&M Energy Institute has an uncommon, professional master of science degree in energy and a certificate in energy program for students. Annually, the institute solicits internal faculty members and researchers to develop innovative ideas relating to energy solutions.
The following were guests of the School of Law:
Stratos Pistikopoulos, Ph.D., director of the Texas A&M Energy Institute and a Texas A&M Engineering Experiment Station (TEES) eminent professor
Jeff Sammons, associate director of the

Texas A&M Energy Institute

Valentini A. Pappa, Ph.D., academic program coordinator of the Texas A&M Energy Institute
Marcus Lentz, i

ndustrial liaison with the Texas A&M Energy Institute
Director Eckstein is featured as one of the institute's elite faculty experts in the field of energy law and policy.
Stay tuned to see what's in store for Texas A&M's energy law course expansion.
More about Texas A&M University School of Law Natural Resources Systems Program:
Natural resources are an integral and undeniable component of modern societies globally. These resources are critical for energy, agriculture, manufacturing and economic development in general. Our natural environment is a highly complex and integrated system, and sound decision-making related to the sustainable management of natural resources and the environment requires a broad and interdisciplinary approach. Acknowledging the centrality and complexity of natural resources systems, the Natural Resources Systems (NRS) Program at Texas A&M School of Law endeavors to train and offer real world experience to students on law and policy issues related to exploitation, management and conservation, and advance research on natural resources that connects with other disciplines and with communities worldwide.
Academic Excellence
Expand your knowledge: