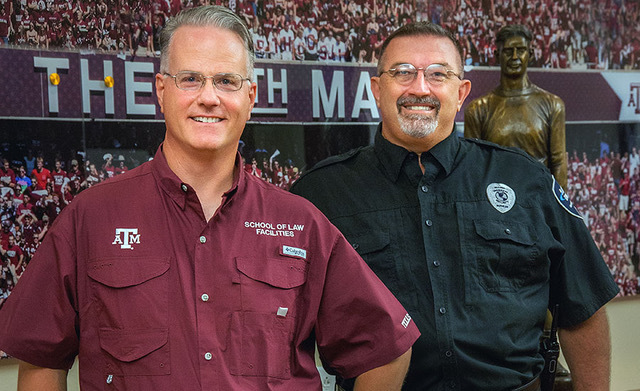 Matt Pellegrino, Facilities Manager, Texas A&M University School of Law (left) and Eric Baze, Security Account Manager, Allied Universal Security Services (right)
The following excerpt appears in the December 2020 issue of Security Magazine and is republished with permission. Read the full article here.
In normal times, Texas A&M University School of Law in downtown Fort Worth, which offers Master of Laws (LL.M.) and Master of Jurisprudence (M.Jur.) degrees in addition to the standard J.D., is buzzing with activity. Located about 200 miles away from the University's main campus in a stand-alone building, the law school hired Allied Universal a year ago to patrol its indoor facilities and outdoor parking lots.

In Allied Universal's first weeks on the job, the U.S. Court of Appeals for the Federal Circuit and Texas Supreme Court made separate appearances at the school to hear cases. "It required a higher level of security to make sure everything went smoothly," says Matt Pellegrino, Facilities Manager with the law school.

Given the downtown location and proximity to highways and public transportation, you never know who's going to walk in the door, Pellegrino says, nor do you know who's going to meander onto surface parking lots in an area with a sizable homeless population. "[Allied Universal is] managing the parking lots but also being the eyes and ears inside the building," he says.

The level of activity in and around the building has dropped somewhat since the COVID-19 pandemic hit, although the school reopened this fall after closing in the spring. Allied Universal has needed to add a fourth guard to the mix, because, in order to socially distance classes adequately, Texas A&M has rented conference room space in a nearby hotel, Pellegrino says.

"Prior to spring break, we were very, very busy with different events, and a lot of different people coming in," he says. "Then the pandemic came in and put the brakes on everything." This fall, "Large classes are over at the hotel. It's not quite as busy over here at times, as it would be in a normal semester."

The law school has made a number of changes to access amid COVID-19, including closing off access doors to the main building to channel everyone through the front entrance; made hallways and stairwells directional; limited elevators to two people; and also made masks mandatory. Pellegrino notes that the guarding staff is responsible for politely but firmly enforcing all of those new changes.
Continue reading the full article here.
About Security Magazine:
Security Magazine is uniquely focused on solutions for enterprise security leaders. It is designed and written for business-minded executives who manage enterprise risk and security. Security provides management-focused features, opinions and trends for leaders in business, government and institutional sectors in print, in person and online.