Allison Pawlowski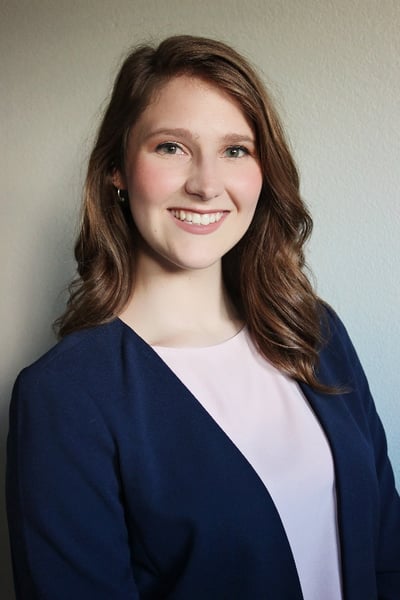 I completed my master's degree in higher education this past year. I now help Texas A&M Law School students find the right professional resources to ensure their wellness. I use a model to wellness that has eight facets: emotional, physical, financial, environmental, social, occupational, intellectual and spiritual.

Area of Service: Student Affairs, Wellness

Years of Service: One year

Describe your law school tenure in three words.
My entire law school tenure has been during the pandemic; so, three words describe my experience: unconventional, learning and connecting.

Why are you proud to work at Texas A&M Law?

Everyone is proud to be here. That's why I'm also proud to work at Texas A&M Law. I have never worked at a place where you can feel the excitement until now. Even though we're in Fort Worth, or as Dean Ahdieh likes to say--Aggieland North--the Aggie pride is infectious. Everyone lives and breathes for the success of Texas A&M University in this area.

What's your go-to productivity trick?
I use Microsoft Outlook to the highest extent possible [smile]. I also put all of my tasks on my calendar.

What is a question that you answer most commonly while at work?
What is a wellness coordinator?

My position covers many things, and I am not meant to necessarily solve all problems but rather help students get to the professional resources they need. We try to address the whole student because we know that it all impacts academics.

Is there a Texas A&M Law student who has left an impression on you? What qualities did this individual have that you remember?

There was a student who really struggled with transitioning into law school. The first week or two were really rough, and the student was struggling with pressure and expectations. We talked through the experience leading up to that point, and I was able to connect the student with a professional for more support. We kept in touch the entire year, and I was happy to see this student finish the year and entertain multiple internship opportunities.

If you could keep only three apps on your phone, what would they be?

Messages

Pinterest

Insight Timer
What advice would you give to an admitted TAMU Law student?

I would want them to know that law school is going to be stressful, but if they prepare and ask about the resources available to help them, it can save a lot of emotional strain later on. It's beneficial to have a plan and to know where to go or what to do when you need help (such as me)!
In support of the Texas A&M University mission, the Office of Student Affairs at the Texas A&M School of Law contributes to student learning and development. The department provides services and programs that promote student success, embody the Aggie spirit, foster a diverse and inclusive campus community and exemplify Aggie Core Values — Loyalty, Integrity, Excellence, Leadership, Selfless Service and Respect.
Texas A&M School of Law continues to reset expectations, climbing to the 53rd-ranked law school in the nation, according to U.S. News and World Report. "Our staff fuel the engine," says Dean Robert B. Ahdieh. Get the facts and learn more about the law school's journey.
Staff Spotlight Guest Writer: Amanda Dickman, Texas Christian University