Texas A&M University School of Law Dee J. Kelly Law Library, with Black Law Students Association (BLSA) Chairperson Sara Vargas, celebrates Black history with a display featuring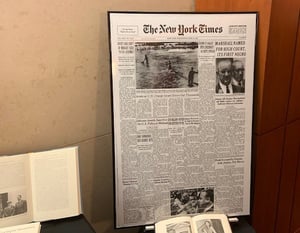 the front pages of historical newspapers. Print materials, highlighting important milestones in African American legal history, are also displayed.
Some highlights include:
Images of the Plessy v. Ferguson Justices
The NYT front page on Brown v. Board of Education
A duplication of the Norman Rockwell Ruby Bridges "The Problem We All Live With" painting and
The NYT front page article on the Civil Rights March on Washington
The historical newspaper covers were found using Texas A&M historical newspaper databases, and the books are from the Dee J. Kelly Law Library collection.
The display will be available throughout February; and, on Monday, February 4, Sara Vargas will be available to discuss her vision, how the images were chosen and other BLSA motivations for creating the display.