Pamela Watson
"Our students make the work worthwhile."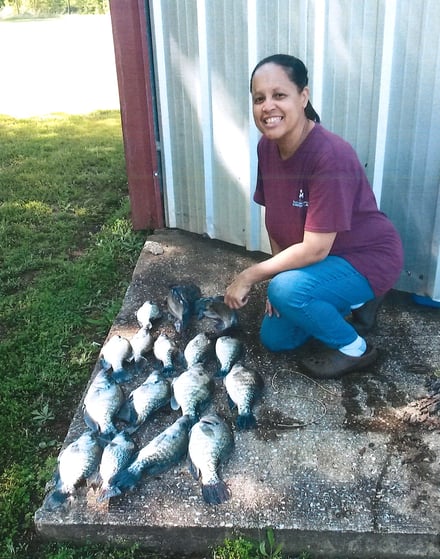 ---
I was one of the first African Americans to integrate Fort Worth's Stripling Middle School in the early 1970s. While I didn't feel the responsibility of being one of the first at that time, I certainly remember that my presence was something others would remember. I got lots of stares. I share this because I can relate to the many firsts our law school students experience when they walk through our halls or sign in to a Zoom session for the very first time. I'm so grateful to our faculty and staff for their welcoming presence and understanding. They are doing their best to maintain a close-knit, family feel despite growth.

Area of Service: Faculty Support

Years of Service: Five

Describe your law school tenure in three words:

What makes TAMU Law unique?

Compared to other law schools, our size makes us unique. Smaller classes, I think, help our students connect better to their studies and to their fellow classmates. It's easier for students to find places to thrive.

I love also watching how the diversity of our students, faculty and staff improves every year. Everyone works together because we can all agree that student success is a priority.

Do you have a favorite Texas A&M Aggie Core Value?

Respect is my favorite Aggie Core Value. How we treat each other matters and reminds me of the Golden Rule - Do unto others as you would have them do unto you.

Are you an early bird or a night owl?

I'm definitely an early bird. I tend to think better in the morning, and I can get more done. Forget the evenings. I'm generally half asleep. LOL. I also like the morning hours because it's a good time to fish, one of my favorite things to do.

Which trends deserve a comeback?

Good question! Bell bottoms, hip huggers, Chuck Taylor's, leisure suits and "fly me by night" collars. I'll also add fedora hats. When I think of them, I think of Tom Landry's professionalism on the Dallas Cowboys sidelines.

If you could keep only three apps on your phone, what would they be?

What was your first job? Share a memory.

I've been working since I was 14. My first job was at Ridglea Country Club in Fort Worth, and I worked at the buffet line. I was in a program that encouraged high school students to gain real-world experience, and this was mine.

I will never forget my last shift. The head Maitre D' Mr. Johnson pulled me aside to tell me that he was impressed by my work ethic and dependability. I was graduating from high school the next day, and he said that he wanted me to know.

I get a little teary even thinking about it. He waited on the steps, probably tired after his shift to tell me this, and I will never forget it.

Who has influenced you the most, when it comes to work? Give us three takeaways.

My mother, Jerline. Here's what has stuck with me:

Do what you gotta do, then do what you want to do.

Do your best work, and time will take care of itself.

Let faith overcome your fear.
Pam works diligently to support prestigious faculty programs such as the Speaker Series and the Hagler Institute for Advanced Study program.
Texas A&M School of Law continues to reset expectations, climbing to the 53rd ranked law school in the nation, according to U.S. News and World Report. "Our staff fuel the engine," says Dean Robert B. Ahdieh. Get the facts and learn more about the law school's journey.