Sharon Jefferson
"One day chicken, next day feathers."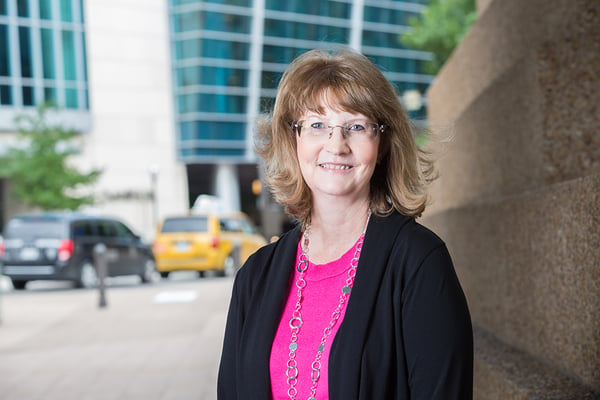 I enjoy volunteering for the Texas Rangers (I pass out promotional items at the gates), taking photographs (nature and baseball mainly) and spending time with my two grandsons.

Area of Service: Dee J. Kelly Law Library

Years of Service: 17 years (as Texas Wesleyan School of Law and Texas A&M School of Law)

Describe your law school tenure in three words:

Variety

Fortunate

Friendships

Do you have a favorite Texas A&M Aggie Core Value?

Selfless Service – I think it is important to help others. Even a small act can make a difference to someone. We didn't have a lot of money growing up, but I observed my parents helping others by giving their time to friends, family and the church.

In the future, I hope to devote time to helping the American Red Cross and area food banks. I am an introvert, and volunteering provides me with the opportunity to meet people.

Are you an early bird or a night owl?

Early Bird – As a child, I wasn't allowed to sleep in. As an adult, I always got up early to go to work or take my daughter to school. I am more productive and energetic in the mornings, especially after a chai tea latte.

If you could keep only three apps on your phone, what would they be?

Facebook

Candy Crush Soda

Google

What was your favorite tv show growing up?

There were several I loved watching

…

The Brady Bunch

,

Little House on the Prairie

,

The Waltons

,

Columbo

, CHiPs,

Dukes of Hazzard

,

Dallas, and Knots Landing.

Share something that few people know about you.

I love 80s heavy metal/hair bands like Van Halen, Aerosmith, AC/DC, Guns N' Roses, Def Leppard and Bon Jovi to name a few.

Who has influenced you the most, when it comes to work? Give us three takeaways.

My Dad.

Work Ethic/Professionalism – He went to work everyday. I do not remember him ever missing work unless there was a labor strike. Even then, he found another job to fill in that time. He taught me to take pride in my work.
Life Isn't Fair – His favorite saying is "One day chicken, next day feathers." I think it means that one day may be going great, but the next day could be the opposite. It's probably best to expect chaos and hope for the calm.
Laugh at Yourself – He's a very serious person, but he has a sense of humor. No one is perfect.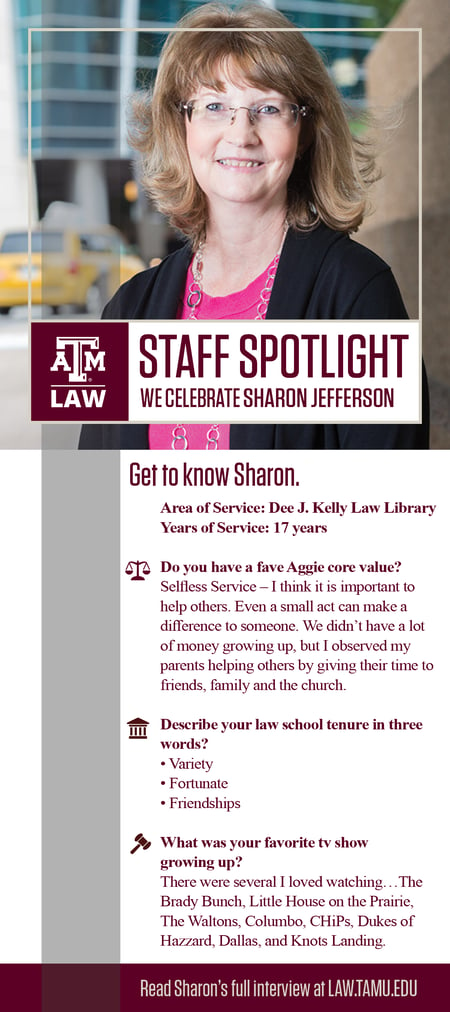 The Dee J. Kelly Law Library is an essential and integral component in the educational life of the law school. This exceptional research facility offers access to the law and law-related resources in addition to a wide range of services that support the law school curriculum and programs, promote the advancement of legal scholarship and fulfill the information needs of our library users.
Texas A&M School of Law continues to reset expectations, climbing to the 53rd ranked law school in the nation, according to U.S. News and World Report. "Our staff fuel the engine," says Dean Robert B. Ahdieh. Get the facts and learn more about the law school's journey.