Xiyao Huang
If there is something I can finish today, I get it done.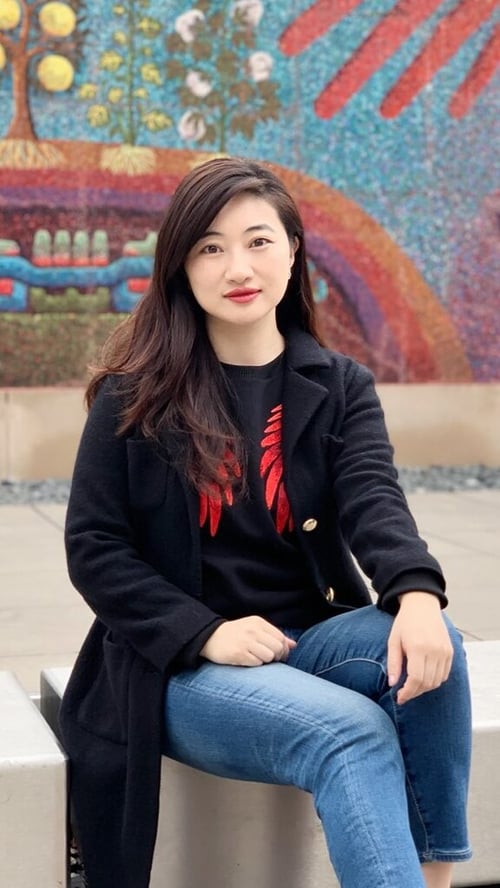 ---
Area of Service: Curriculum & Instructional Design

Years of Service: Two

I am very passionate about designing high-quality, learner-friendly courses that engage adult learners to achieve success. Instructional design is the "glue" that connects instructors and students for the finest experiences.

I moved to the U.S. after earning my bachelor's degree in China, and I earned my master's degree in curriculum development and instructional technology from State University of New York at Albany. I'm looking forward to completing my doctoral degree next summer.

What's a recent professional accomplishment?

Migrating existing online courses to Canvas during a pandemic. Pivoting quickly was a challenge but also an opportunity.

Canvas is a course management system that supports online learning and teaching.

Describe your law school tenure in three words:

Extremely busy

Challenging

Exciting

Do you have a favorite Texas A&M Aggie Core Value?

I'm most drawn to leadership, and it excites me. Without solid leadership, you may lose focus. Like a ship that navigates through rocky waters, a good leader can calm the path forward for organizational success.

Why are you proud to work at Texas A&M Law?

I am confident that I can help build an online environment that improves experiences for working professionals. Twenty-five percent of our law students do not live in Texas. They matter.

I am also proud to work at Texas A&M Law because I get to work with great people and learn from them.

If you could keep only three apps on your phone, what would they be?

WeChat - It's a one-stop-shop. I can communicate with my family and more.

Instagram - I love the visual storytelling.

Gmail and Outlook

How do you prefer to start your day?

I listen to music, journal and watch morning news. I just added "One More Day" by King Sis to my playlist; and, watching Good Morning America reminds me of when I lived in New York. Seeing images of Rockefeller Center make me nostalgic.

What is your go-to productivity trick?

I ask myself if I'm procrastinating. If there is something I can finish today, I get it done.

Are you an early bird or a night owl?

I am an early bird, when it comes to work. I believe that it's easier to build and stick to a routine in the morning.

What is a question that you answer most commonly while at work?

What do you do here? My answer? I help faculty members design online courses. I make them feel comfortable and help to optimize their coursework online. It's like a fashion designer. To design the perfect piece for a client, he/she take into account body shape, uses, strengths and weaknesses and more.

To me, an instructional designer is always wearing multiple hats. He/she is not just a technical person but also a person who can master project and relationship management in an academic setting.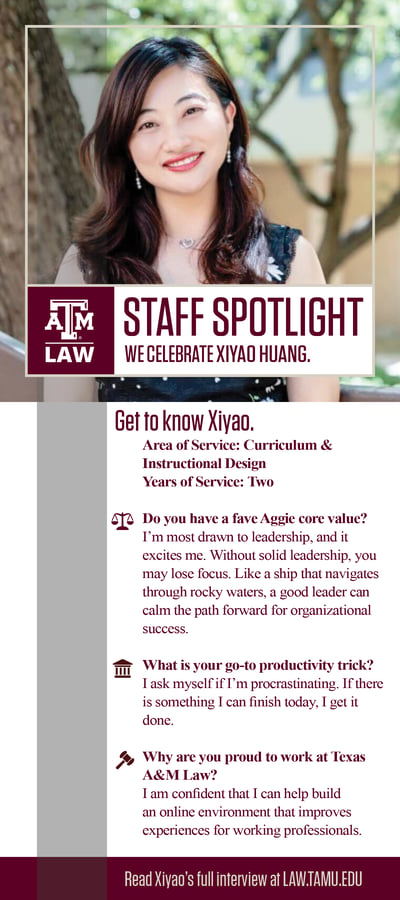 As a senior instructional designer, Xiyao helps construct a stronger, online experience for students primarily in Texas A&M School of Law's popular graduate studies program. To learn more about advancing your career with a master's degree in law, click
here
.
Texas A&M School of Law continues to reset expectations, climbing to the 53rd ranked law school in the nation, according to U.S. News and World Report. "Our staff fuel the engine," says Dean Robert B. Ahdieh. Get the facts and learn more about the law school's journey.