Texas A&M School of Law Immigrant Rights Clinic student Madeleine "Maddie" Hamparian helped a client obtain humanitarian parole, a temporary permission allowing non-U.S. citizens to enter the country to attend to urgent issues. In this case, the client's son was having a critical surgery that her husband's donated tissue could make possible. His presence was needed. U.S. Customs and Border Protection (CBP) made the decision in early September. The law school's medical/legal partnership with Cook Children's Medical Center facilitated the meeting and eventually successful result.
"CBP is turning away most people who come to the border because of COVID-19," says Immigrant Rights Clinic director and Texas A&M Law professor Fatma Marouf. "It's remarkable that this application was granted."
According to Hamparian, the rise of COVID-19 cases and deaths in the U.S. has complicated entrance into the country, managed by CBP. Hamparian gathered and read medical data for context, translated documents and explained processes to her client to lessen the risk of denial. A second-year law student, Hamparian is not a native Spanish speaker and relied on undergraduate classes to begin to remove the language barrier. She attributes this experience to improving her Spanish proficiency in a short amount of time.
From this experience, Hamparian learned to set realistic expectations so that the client is aware and prepared for an unfavorable outcome. With Professor Marouf's guidance, she was upfront about trends and potential challenges.
"However, with solid preparation and clear instructions, we were able to put the client's husband in the best position to advocate for himself at the border," Hamparian says.
She credits Professor Marouf and her clinic peers with keeping her encouraged and being a resource for ideas. "I am grateful for all the guidance and support I have received from Prof. Marouf and my friends in the clinic thus far!"
Lydia P. Alvarado, paralegal for the medical/legal partnership with Cook Children's, says that she is proud that immigration referrals are sent to the Immigrant Rights Clinic immediately. This way, an assessment can be made quickly, and help can get to families being treated at Cook Children's.
"The A&M Law clinic experience places students on the front lines of legal practice so that they can apply what they learn in the classroom to real-life scenarios," says Lori Rogde, director of experiential education and clinic operations. "Maddie will carry the impact of her time and effort for quite some time."
Hamparian advises future clinic students to remember that when deadlines are looming and it feels overwhelming, that they are working for real clients who rely on their commitment, detail and accuracy.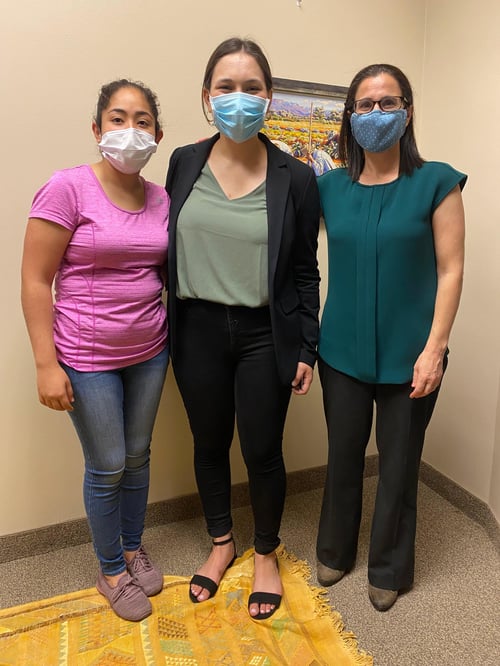 Pictured above: Immigrant Rights Clinic client, Maddie Hamparian, Prof. Fatma Marouf
The Immigrant Rights Clinic engages law students in direct representation of immigrants before the Immigration Courts, Board of Immigration Appeals, U.S. District Courts and U.S. Courts of Appeals. Our representation focuses on deportation defense, federal litigation on immigration detention and affirmative filings for survivors of crimes and abuse.
To learn more about the Immigrants Rights Clinic and other ways Texas A&M Law is preparing its students for real-world application, click here.