John D. Robinson, a 2019 graduate of Texas A&M University School of Law, has joined Cantey Hanger LLP as an associate in the Litigation Section. He will handle health care and commercial litigation cases.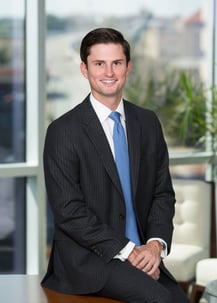 Robinson was a litigation extern at Cantey Hanger in 2017 and a summer clerk with a focus on commercial litigation in 2018. Jordan Parker, Chair of the Litigation Section, said, "John is a smart, ambitious young attorney who fits in well with the firm's culture. We are delighted to have him join us full time."
Robinson was a student attorney for the Texas A&M University School of Law Entrepreneurship Law Clinic, where he assisted low-capital entrepreneurs and helped small businesses with entity formation. In 2017, he was an intern to Justice Craig Stoddart of the Fifth Court of Appeals in Dallas.
Robinson is a 2013 graduate of the University of Texas at Austin with a Bachelor of Arts in Psychology.
Cantey Hanger LLP, established in 1882, is a full-service firm based in Texas, with offices in Fort Worth, Dallas, and Austin. Through its membership in Meritas, a premier global alliance of law firms, the firm's footprint is expanded nationally and internationally. The firm represents clients in practice areas including Administrative Litigation; Aviation; Banking and Real Estate; Bankruptcy; Commercial Litigation; Condemnation Litigation; Construction Contracts and Litigation; Corporate and Securities; Estate Planning and Probate; Family Law; Health and Insurance Law; Immigration; Labor and Employment; Oil and Gas; Professional Malpractice; Public and Regulatory; and Tax. For more information, go to www.canteyhanger.com.