Texas A&M University School of Law has placed in the top 10 in the American Bar Association's 2018-19 "ABA Competitions Championship."
This is the second year in a row Texas A&M has finished in the ABA top 10.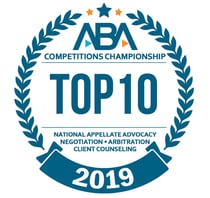 Per the ABA, "The award was created to recognize law schools that go above and beyond to help prepare their students for practice. Success in these competitions illustrate your school's commitment to providing a well-rounded curriculum and preparing students to become highly skilled lawyers. We are proud that the ABA competitions are an important part of the hands-on learning experiences available to your students."
Texas A&M Law School Dean Bobby Ahdieh lauded the success of the Advocacy Program, adding, "Let me particularly thank [Advocacy Program Director] Jen Ellis, as well as Kay Elliott, Susan Fortney, Michael Green, Jim Hambleton, Neal Newman, Lynne Rambo, Peter Reilly and Joe Spence for their support of the teams that got us this happy result."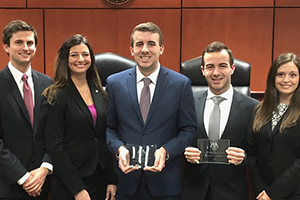 Aggie Law's two regional championship teams finished the 2018-19 competition year as national semifinalists:
Moot court team of third-year students John Robinson, Heather Nichols and second-year student Grant Schauer, ABA National Appellate Advocacy Competition
Alternative dispute resolution (ADR) team of third-year students Derek McKee and Kaitlyn Pound, ABA Representation in Mediation Competition
The championships rank law schools based on the points the school earns through their teams' performance and participation in the ABA Law Student Division's four practical skills competitions: arbitration, negotiation, client counseling and national appellate advocacy competition (NAAC Moot Court).