Texas A&M University Law Professor William Henning has been a member of the U.S. State Department's Advisory Committee on Private International Law (ACPIL) since 2008, and he was recently appointed to another term on the committee. ACPIL's purpose is to serve the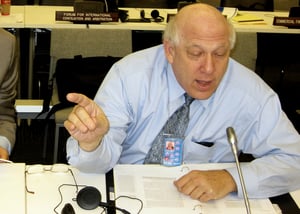 State Department "with respect to significant issues of private international law arising or likely to arise in the work of international organizations of which the United States is a Member State, or in international bodies in whose work the United States has an interest, or in the foreign relations of the United States." Over the years, Professor Henning has participated in numerous discussions that have helped the State Department set its agenda in the area of private international law.
In addition to ACPIL, Professor Henning has worked with the State Department on a number of projects. He has been a member since 2010 of the U.S. Delegation to Working Group VI of the United Nations Commission on International Trade Law and has participated in the development of a number of international instruments in the area of secured transactions, including the U.N. Model Law on Secured Transactions. From 2007 to 2010, he was a member of the U.S. Delegation to the International Institute for the Unification of Private Law, commonly referred to as UNIDROIT and participated in the development of the UNIDROIT Model Law on Leasing.
Professor Henning has also provided service to the U.S. Commerce Department's Commercial Law Development Program (CLDP) and, earlier this academic year, he worked with CLDP to help the Kingdom of Bahrain reform its secured transactions laws.