Gabriel Eckstein, professor of law at Texas A&M University School of Law and director of the Natural Resources Systems Program, has been elected president of the International Water Resources Association (IWRA).
The Association is an international, professional organization focused on improving and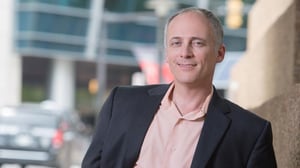 expanding the understanding of water issues through education, research and information exchange among countries and across disciplines.
"This is really a wonderful honor," said Eckstein. "IWRA is one of the most respected, water-focused organizations globally, and I look forward to building on the association's excellent policy work, which seeks to ensure sustainable water resources for people and the environment."
Established in 1971, IWRA provides a global, knowledge-based forum for bridging disciplines and geographies by connecting professionals, students, individuals, corporations and institutions concerned with the sustainable use of the world's water resources.
Eckstein said he is especially pleased to be part of a board that has "great diversity of people" who bring unique knowledge and experience to the table.
The incoming executive board, which is composed of twenty members (40 percent of whom are women), will have water professionals from 15 countries including Africa, Asia, Europe, Oceania and the Americas.
"The breadth and depth of experience of these individuals is remarkable. We are fortunate that these water leaders, which includes engineers, scientists, academics, policy wonks, executives, lawyers and government officials, have committed to work together toward the Association's common goals," said Eckstein.
Professor Eckstein's three-year term at the helm of IWRA will begin in January 2019.
From 2010-2015, Professor Eckstein served as treasurer of IWRA.

He also chaired the International Scientific Committee for IWRA's XVI World Water Congress in 2017.
More about Gabriel Eckstein