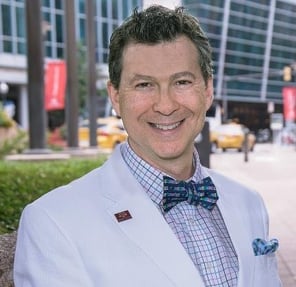 Texas A&M University School of Law Professor William Byrnes is the only academic invited to join the Cambridge Forums' transfer pricing workshop in Frankfurt, Germany. The workshop is an invitation-only event, limited to 20 leaders who will spend three days together to "develop meaningful relationships" with hiring partners of several global law firms and directors of multinational tax departments.
The Cambridge Forums website says, "The Forum is not for everybody. Those nominated for invitation have demonstrated their excellence in this field and can confidently share their knowledge and experiences while being open to learning from their peers."
Byrnes is a leading expert in anti-money laundering and risk management, financial planning and wealth management, international taxation and taxation. He is also recognized as a pioneer and leader for distance, legal education. Recently, he participated in a faculty series, "Exploring Pedagogy and Online Legal Education," held at the University of Memphis School of Law.
About Texas A&M School of Law
Texas A&M School of Law is an American Bar Association-accredited institution located in downtown Fort Worth. In 2013, the law school acquired Texas Wesleyan University School of Law and has increased faculty and students exponentially in its five-year existence. The law school ranks highly nationwide in dispute resolution and intellectual property and offers 11 clinics that introduce students to real-world applications of the law. For more information, visit law.tamu.edu.
About Texas A&M University
Texas A&M, established in 1876 as the first public university in Texas, is one of the nation's largest universities with more than 66,000 students and more than 440,000 living alumni residing in over 150 countries around the world. A tier-one university, Texas A&M holds the rare triple land-, sea- and space-grant designation. Research conducted at Texas A&M represented annual expenditures of more than $905.4 million in fiscal year 2017. Texas A&M's research creates new knowledge that provides basic, fundamental and applied contributions resulting, in many cases, in economic benefits to the state, nation and world.