The Environmental Law Institute (ELI) released Legal Pathways to Deep Carbonization in the United States this month, and TAMU Law Professor Elizabeth Trujillo contributed the eighth chapter titled, "Trade Considerations for Decarbonization Strategies."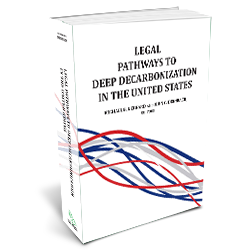 According to the Institute, the book's message is simple: deep decarbonization is achievable in the United States using laws that exist or could be enacted. This legal playbook outlines 1,000 options for tackling one of the greatest problems facing the country and humanity.
A seminar and book launch will be held on April 25. Click here to register.
A podcast about the book will be available in early May.
The Environmental Law Institute's mission is to find practical, legal solutions to empower change agents to make "environmental, economic and social progress." Since 1969, the organization has shaped law, policy and management domestically and abroad. It is a non-partisan research and education center, delivering "insightful and impartial" analysis to influential individuals such as academics, business and legal professionals and journalists.
https://papers.ssrn.com/sol3/papers.cfm?abstract_id=3238243
---
See the following book reviews:
"A growing chorus of Americans understand that climate change is the biggest public health, economic, and national security challenge our families have ever faced and they rightly ask, 'What can anyone do?' Well, this book makes that answer very clear: we can do a lot as individuals, businesses, communities, cities, states, and the federal government to fight climate change. The legal pathways are many and the barriers are not insurmountable. In short, the time is now to dig deep and decarbonize."
—Gina McCarthy, Former U.S. Environmental Protection Agency Administrator
"Legal Pathways to Deep Decarbonization in the United States sets forth over 1,000 solutions for federal, state, local, and private actors to tackle climate change. This book also makes the math for Congress clear: with hundreds of policy options and 12 years to stop the worst impacts of climate change, now is the time to find a path forward."
—Sheldon Whitehouse, U.S. Senator, Rhode Island
"This superb work comes at a critical time in the history of our planet. As we increasingly face the threat and reality of climate change and its inevitable impact on our most vulnerable populations, this book provides the best and most current thinking on viable options for the future to address and ameliorate a vexing, worldwide challenge of extraordinary magnitude. Michael Gerrard and John Dernbach are two of the most distinguished academicians in the country on these issues, and they have assembled leading scholars and practitioners to provide a possible path forward. With 35 chapters and over 1,000 legal options, the book is like a menu of offerings for public consumption, showing that real actions can be taken, now and in the future, to achieve deep decarbonization. I recommend the book highly."
—John C. Cruden, Past Assistant Attorney General, Environment and Natural Resources Division, U.S. Department of Justice
"This book proves that we already know what to do about climate change, if only we had the will to do it. The path to decarbonization depends as much on removing legal impediments and changing outdated incentive systems as it does on imposing new regulations. There are ideas here for every sector of the economy, for every level of government, and for business and nongovernmental organizations, too, all of which should be on the table for any serious country facing the most serious of challenges. By giving us a sense of the possible, Gerrard and Dernbach and their fine authors seem to be saying two things: (1) do something; and (2) it's possible. What a timely message, and what a great collection."
—Jody Freeman, Archibald Cox Professor of Law and Founding Director of the Harvard Law School Environmental and Energy Law Program