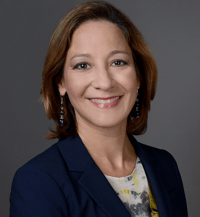 Texas A&M University School of Law professor and co-convener of the global and comparative law program, Elizabeth Trujillo, addresses cutting-edge issues regarding trade, regionalism, decarbonization strategies and sustainable development.
This year, she has written several articles regarding trends and recent changes by the Trump administration published in the Indiana Journal of Global Legal Studies and issues for sustainable development in the context of investment in natural resources and energy published in the Boston College Law Review. She also contributed to a chapter on International Trade and Deep Decarbonization in the U.S.
Trujillo says, "This last publication is part of an exciting public policy project. It is a chapter of a book being published by the Environmental Law Institute in Washington, DC titled, "Legal Pathways to Deep Decarbonization in the United States."
The book is based on two reports by the Deep Decarbonization Pathways Project (DDPP), which is a global consortium formed by Jeffrey Sachs and others in 2013, researching methods for addressing climate change mitigation as outlined in the UN Intergovernmental Panel Climate Change Agreements.
Trujillo is invited to speak at the Association of American Law Schools (AALS) annual meeting in early January and discuss "Hot Topics" surrounding the United States-Mexico-Canada Agreement (NAFTA 2.0).
Read more about Elizabeth Trujillo.