Both Texas A&M University School of Law moot teams competing in the American Bar Association (ABA) national finals this month, finished as national semifinalists--a part of the top four in the nation.
Third-year students Heather Nichols, John Robinson and second-year student Grant Schauer were national semifinalists at the ABA National Appellate Advocacy competition in Chicago. TAMU Law Advocacy Program Director Jennifer Ellis coached the winning teams.
According to Ellis, this event is the most prestigious moot court competition, starting with 198 teams competing at the regional level. Then, 24 regional champions compete for the national title. It is also "extremely difficult" to get to the national semifinal level. It has only been achieved once before at the law school, 14 years ago.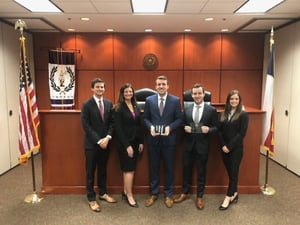 Three out of the top four teams were from Texas, highlighting the strength and competitiveness of Texas schools.
Third-year students Kaitlyn Pound and Derek McKee were national semifinalists at the ABA Representation in Mediation competition in Minneapolis early April. They were coached by Kay Elliott, TAMU Law adjunct professor. This marks Kaitlyn Pounds' second national semifinalist achievement, having also been a national semifinalist at the ABA Client Counseling national finals last spring.
"It's very difficult to achieve such a high level of success twice in different competitions. This was Mr. McKee's first advocacy competition, which is impressive," says Ellis.