The Texas A&M University School of Law Black Law Students Association's (BLSA) mock trial and moot court teams advanced to the national finals. Third-year students Enrica Martey, Sara Vargas, Regina Palmer-Coleman and Shawn Pullum placed second at the southwest region's Candace Baker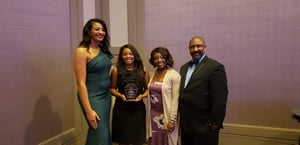 Mock Trial Competition in New Orleans, LA early January. The team was coached by Doug Greene, a Fort Worth attorney. Third-year student Lorraine Birabil and second-year student Brandon Cofield, members of the moot court team, received an invitation to the national finals. The moot court team is coached by Judge Matthew Wright (TWL 2009). The national finals will be held in Little Rock, AR in March.
According to Jennifer Ellis, director of advocacy programs, the students sacrificed a large part of their holiday breaks to practice and prepare.
She says, "It is exciting for their hard work to pay off. Enrica Martey is a veteran competitor who made it to the national finals last year, but the other three team members were competing for the first time."
At the competition, TAMU Law third-year student, Sara Vargas, was awarded the Traci A. Gibson Legacy Scholarship from the Southwest Black Law Students Association.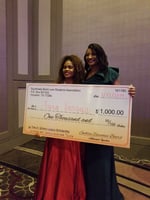 BLSA fosters and develops professional competence and leadership, while providing a forum in which the unique needs of Black and other minority, law students may be addressed. Openness of communication within the law school community is encouraged.
Follow TAMU Law BLSA on Facebook.