Texas A&M University Chancellor John Sharp visited the university's Fort Worth law school Monday. He conversed with students first and rounded out his visit with a chat with the faculty. Appointed Chancellor of the Texas A&M University System by the Board of Regents on Sept. 6, 2011, Sharp leads one of the largest systems of higher education in the nation, with a budget of $4.7 billion.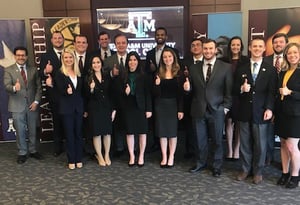 First-, second- and third-year students were given the opportunity to casually ask questions about the law school's past, present and future. Sharp implored students to embrace their place in the Aggie Network because it is a "network that is intensely loyal." Aggies are the second or third highest-recruited students in the nation, according to Sharp. He described Aggie rings as "billboards," and with them, "lots of faults may be forgiven." One student asked Chancellor Sharp how A&M law students can give back. His answer--to score well on the State's Bar Exam. Dean Robert B. Ahdieh added that this year's Bar Exam scores for the School of Law rose four percent, and the law school is ranked fourth among Texas law schools. Chancellor Sharp also asked that students help with recruiting and be the "best ambassadors" when working.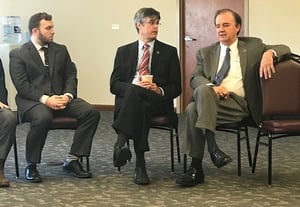 When asked what his priorities are for the next legislative session, Chancellor Sharp said that he will advocate for formulas to be funded completely. If that happens, the flagship and Texas A&M's seven agencies will do well. Texas A&M University is the largest research center in the southwestern United States.
Chancellor Sharp spent time discussing Texas A&M University's acquisition of the Los Alamos National Laboratory, in partnership with other agencies, including the University of California. He introduced Thom Mason, director, who is the present-day equivalent to Robert Oppenheimer of the Manhattan Project. According to Mason, the Los Alamos lab is 70 years-old, is responsible for 75 percent of deployed weapons, has 10,000 employees and a $2.2 billion budget. It also hires 1,000 people annually and could use legal interns.
Chancellor Sharp concluded by sharing his excitement for the law school's future and potential Fort Worth expansion.
About Texas A&M School of Law
Texas A&M School of Law is an American Bar Association-accredited institution located in downtown Fort Worth. In 2013, the law school acquired Texas Wesleyan University School of Law and has increased faculty and students exponentially in its five-year existence. The law school ranks highly nationwide in dispute resolution and intellectual property and offers 11 clinics that introduce students to real-world applications of the law. For more information, visit law.tamu.edu.
About Texas A&M University
Texas A&M, established in 1876 as the first public university in Texas, is one of the nation's largest universities with more than 66,000 students and more than 440,000 living alumni residing in over 150 countries around the world. A tier-one university, Texas A&M holds the rare triple land-, sea- and space-grant designation. Research conducted at Texas A&M represented annual expenditures of more than $905.4 million in fiscal year 2017. Texas A&M's research creates new knowledge that provides basic, fundamental and applied contributions resulting, in many cases, in economic benefits to the state, nation and world.