Texas A&M University School of Law partners with Tarrant County College to host a October 9, 2020 mock trial for nurses and nursing students. Lawyers and law students interested in health law are encouraged to attend.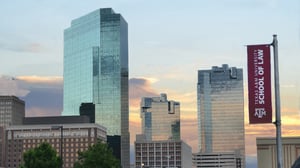 The mock trial program is designed to help students understand the legal responsibilities of healthcare workers, malpractice cases and other legal implications of the nursing practice. Viewers will watch the case unfold as a nurse takes the stand and the prosecution and defense present their arguments. Originally planned as an in-person event, the event will be supported virtually by Magna Legal Services, an end-to-end litigation support company.
Fully understanding the legal implications of their practice is extremely important for healthcare workers. Because mock trials give invaluable insight into the legal aspects of nursing, Tarrant County College (TCC) would previously finance their students to attend mock trials hosted by other schools. To make this opportunity further accessible to all of their students, TCC decided to host their own annual mock trials, starting with this event.
The Aggie Health Law Society played a key role in planning the event. The organization's president, Christine Chasse, a registered nurse explains "One core, central duty nurses and lawyers share is advocacy. Nurses who fail to listen to or advocate for their patients not only risk their patients' lives, they risk their professional licenses. Lawyers can relate."
Jim Mullen, RN, JD will play the nurse on trial, prosecuted by Colleen Carboy, RN, JD and defended by Kathleen Kearney, RN, JD. Expert witnesses include Nancy Roper Wilson, RN, JD and Patricia Blair, RN, JD. Justice Lee Gabriel will preside over the mock.
Mock trials provide a safe environment to learn, says Chasse. The case being examined is based on a real case of a negligent nurse.
Hosting the event remotely will allow for social distancing and a larger audience capacity. Virtual proceedings also prove for increased viewer attention and understanding due to:
Greater exhibit visibility— All exhibits and demonstratives will be displayed directly in front of each attendee on their devices, ensuring they can see and hear everything. In contrast, exhibits for in-person trials are usually displayed on TVs and format boards, where distance and other factors can hinder visibility.
Enhanced annotation— Magna's virtual platform allows for seamless, real-time annotating, like highlighting and blow-ups, which will improve viewer understanding.
Speaker view— The virtual platform allows each attendee to have a front-view of each speaker, rather than the side or back-view they would normally have at an in-person trial.
Speaker identification— Viewers can better follow along with the presentation because all speaker names are clearly visible throughout the event's duration.
The Tarrant County College and Texas A&M University Law School mock trial plans to bring in over 500 attendees including first-year TCC nursing students, TCC faculty and TAMU students focusing on health law.