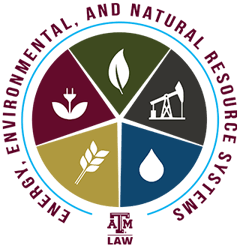 The new Environmental & Natural Resources Systems Clinic at Texas A&M Law places it among the relatively few law schools across the country with such a program. The clinic will build on the work of the school's Energy, Environmental, And Natural Resource Systems Law Program (currently ranked 34 nationally).
There are two primary and interrelated objectives for the clinic: addressing critical environmental and natural resource issues, while helping to equip Aggie law students with hands-on, practical experience to lead change in these areas.
Professor Gabriel Eckstein, who directs the clinic, says there is a shortage of environmental advocates in the US, and especially Texas. "This leaves communities, habitats, and species at substantial risk," he says.
"In Texas, for example," Eckstein explains, "we have communities like Sandbranch (just outside of Dallas) and numerous Colonias suffering from environmental injustice (lack of sewage or running water, situated in pollution zones, etc.); routine violations of water pollution laws; increases in industrial facilities engaging in unauthorized air pollution causing serious health effects; endangered species being unlawfully trafficked and sold; growing challenges from climate change; and more."
Eckstein hopes the clinic will inspire more future lawyers to reduce that shortage by allowing students to work with real clients at the forefront of substantive environmental legal and policy areas, like energy law, water law, and endangered species law. "When they take their place in society and the legal profession, they will have to deal with these issues on a regular basis," says Eckstein.
Sara Thornton, principal attorney with Lloyd Gosselink Rochelle & Townsend, P.C. in Austin, and one of the top environmental law attorneys in the state, will be co-teaching the clinic along with Eckstein.
As they work in the clinic, students will also be building skills crucial to their legal profession more broadly: developing attorney-client relationships; professional communication; interviewing clients, experts, and other professionals; and preparing position and policy papers and reports.
"This clinic is a great addition to our clinical program and experiential offerings that focus on equipping students with the necessary skills and insights to tackle important legal needs in our communities," said Associate Dean for Experiential Education Luz Herrera.
Texas A&M Law already has many established working relationships with agencies like the Trinity River Authority, Texas Target Communities, Texas Water Foundation, and Tarrant Regional Water District. That list is likely to grow significantly as the clinic expands the work to other types of clients.
Unlike some of the other clinics at Texas A&M Law, the Environmental & Natural Resources Systems Clinic will not take cases to court. Instead, its focus will be on policy issues, legislation, and providing legal support to ensure that companies, governmental units, and individuals are doing what is necessary and sustainable for the environment, communities, and the economy.