Texas A&M Law's most recent recruitment programs have yielded impressive results for the Class of 2024.
Of the 45 students who accepted offers at large law firms, 35 will be going to firms with more than 500 attorneys and another 10 are going to firms with more than 100 attorneys. This represents a nearly twofold increase in large firm placements over the past three years.
Several students reflected on their experience preparing for these extremely competitive placements.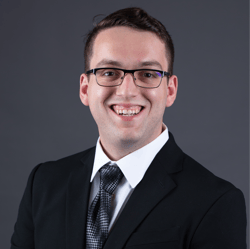 "Texas A&M School of law has created an environment that fosters success in every student's unique path. Leaving my engineering career to study law was a scary change, but I could not have picked a better place to take that leap. The faculty and staff here have been invaluable to my success, from helping with resumes and cover letters to connecting me with potential mentors and employers. My Career Services Advisor was in my corner since the beginning and was integral in helping me obtain my position with Dentons."
Dalton Eschberger
Dentons (Dallas; Los Angeles)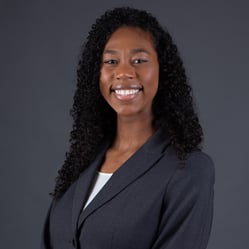 "Texas A&M Law was extremely hands-on in my job search process. From helping me with my resume and cover letters, to conducting mock interviews, to pointing me toward potential employers, they invested from start to finish. Because of the help from faculty, staff, and classmates, I found the perfect summer job for me."


Victoria Miller
Baker Botts (Dallas)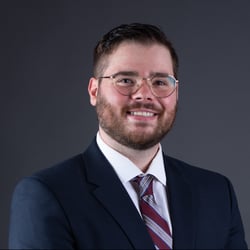 "The Career Services and Professional Identity class equipped me to feel confident in every networking event, submitted application, and job interview. I have felt the direct impact of being invested in by the school, which is a product of our small class size and caring faculty and staff. Being a first-generation law student, it was extremely valuable to me to walk through the interview process with professors and experienced career advisors who made themselves available to help me navigate the interview process."

William "Reid" Corbin
Katten Muchin (Dallas)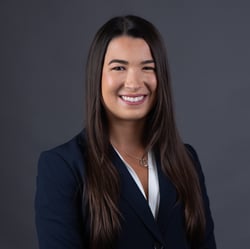 "As a first-generation law student, I was very uncertain about the job search process. The faculty and staff at Texas A&M Law took the uncertainty out of the process by providing considerable support and guidance through career advising, resume review, and networking training. My Career Services Advisor was extremely knowledgeable about the legal market and went above and beyond to help me find the job best suited to my career goals and practice area interests."


Alexa Auger
Kirkland & Ellis (Dallas)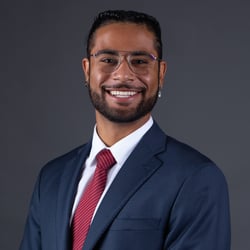 "The required professional identity class and career services guided me in developing my professional narrative by showing how to highlight the skills employers look for in an applicant. The student organizations are also essential in finding employment. Black Law Students Association (BLSA) led me to multiple networking events throughout, where I was able to grow my professional connections in a way I would not have been able to on my own. I am grateful for all the time and effort the school put into me as an individual."
Faris Babineaux
Haynes & Boone (Dallas)

Here is the full listing of student placements for summer associate positions for the Class of 2024:
Armando Amador
Winston & Strawn (Houston)

Alexa Auger
Kirkland & Ellis (Dallas)

Faris Babineaux
Haynes & Boone (Dallas)

Brian Ball
Kilpatrick Townsend

Carol Barrera
Husch Blackwell (Dallas)

Jose Becerra
Vinson & Elkins (Dallas)

Lauren Brownlee
Kelly Hart (Fort Worth)

Andrea Cooper
Alston & Bird (Dallas)

William "Reid" Corbin
Katten (Dallas)

Meagan Corser
Phelps (Dallas)

Tanner Daniels
BakerHostetler (Dallas)

Emma Dooher
Faegre Drinker (Dallas)

Harris Dubin
Sidley (Houston)

Dalton Eschberger
Dentons (Dallas)

Devon Espinoza-Fontenot
Vinson & Elkins (Dallas)

Hanita Flora
Foley & Lardner (Dallas)

Cathina Gunn-Rosas Phd
Alston & Bird (Dallas/Fort Worth)

Justin Higdon
Shearman & Sterling (Houston)

John Hinojosa
Winston & Strawn (Houston)


Kathryn Keating
Holland & Knight (Dallas)

Sean Keller
Foley & Lardner (Dallas)

Roman Madoerin
Foley & Lardner (Dallas)

Cahill Maffei
Gray Reed (Dallas)

Kelsey McKechnie
Sidley (Houston)

Mallory McPherson
Norton Rose Fulbright (Dallas)

Victoria Miller
Baker Botts (Dallas)

Lauren Rod
Chamberlain Hrdlicka

Caitlin Rodgers
Winston & Strawn (Houston)

Mark Roundtree
Sterne Kessler (Washington DC)

Carson Smith
Sterne Kessler (Washington DC)

Andrew Sorenson
Latham & Watkins (Houston)

Jacob Spicer
Winstead PC (Fort Worth)

Timothy Stafford
Duane Morris (Dallas)

Taylor Stilwell
Katten Muchin (Dallas)

Thomas Tanabe
Haynes & Boone (Dallas)

Chanel Thomas
Kelly Hart (Fort Worth)

Katherine Tyler
Jones Walker (Houston)

Andrew Waldeck
Wilson Sonsini (Austin)

Thomas "Conner" Watson
Jones Day (Dallas)

Amber Yokubaitis
Simpson Thacher (Houston)

Nyesha Young
Katten Muchin (Dallas)

Alexander Yow
Sandberg Phoenix (St. Louis)