On November 10, Texas A&M University System Chancellor John Sharp announced plans to build a new Texas A&M research campus and collaborative innovation hub in downtown Fort Worth.
"The A&M System is making a Texas-sized commitment to Fort Worth," Sharp said. "Welcome to Aggieland North."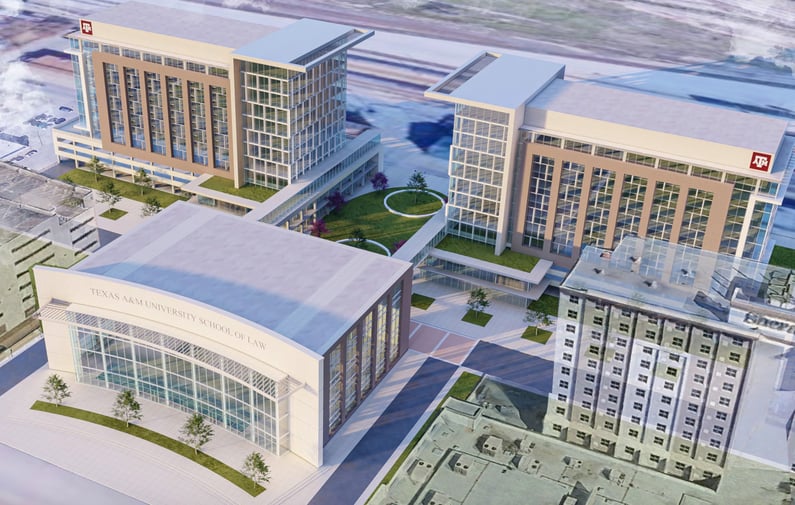 Texas A&M Law is the academic anchor of the new A&M campus, which will include a Research and Innovation Center designed to bring academic research and industry expertise together. The new urban campus will also include an Education Alliance Building, with space for professional, technical and university courses offered by Texas A&M Law, Tarleton State University, Texas A&M University, the Texas A&M Health Science Center and other alliance members.
Facilitating cross pollination between education and industry through public-private partnerships is at the heart of the design for the proposed urban campus. Space will also be available for large conferences and external education programs.
"One of the law school's highest priorities in recent years has been to develop interdisciplinary collaborations with academic partners at Texas A&M and beyond — and to build ties with a diverse array of community partners," says Dean and Anthony G. Buzbee Endowed Dean's Chair Robert B. Ahdieh. "With our new campus, we will see exponential growth in opportunities to engage and add value to those with whom we collaborate."

Overall enrollment at Texas A&M Law has tripled over the last four years, according to Ahdieh. Meeting the needs of those students demands a new space. And the growth shows no signs of slowing.
"With the rise we are seeing in the demand for a Texas A&M Law education — both now and into the future — expanded space has become essential," says Ahdieh. "The caliber and quality of the space A&M is proposing, meanwhile, reflects how far the law school has come — and the expectations for its future."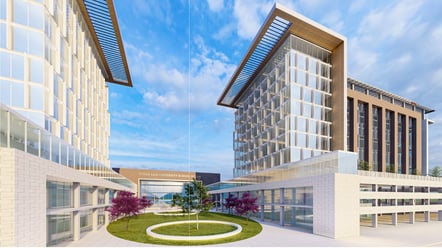 This is about much more than merely a new building, however. The most exciting part, as Ahdieh is keen to point out, is the impact of "Aggieland North" on Texas A&M Law's role far beyond producing world-class members of the bar.
Of course, the law school's flagship J.D. program — which has led the school's meteoric rise in national rankings in recent years — will continue its growth in both depth and quality, says Ahdieh. But he predicts even more significant growth will come from opportunities to offer legal education involving collaboration and innovation across law and other disciplines.
"As the number of healthcare, finance, energy sector, and other professionals enrolled in the non-lawyer degree, certificate, and executive education programs continues to grow exponentially," Ahdieh explains, "our planned world-class executive education and conference center will contribute to making Fort Worth and the Metroplex a hub for professional education and workforce development — for Texas and the entire nation."
So far, six notable corporations — Alcon, AT&T, Bell, Elbit Systems of America, Lockheed Martin, and Philips — have expressed interest in collaborating with A&M across several research areas.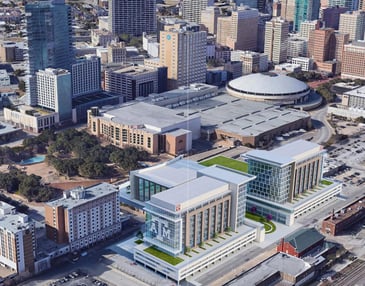 The A&M System owns four blocks in the area and the City of Fort Worth has nearby property that could be part of the campus. The area is next to two major attractions, the Convention Center and Water Gardens. It is a short walk from two public transportation stations and close to two interstate highways, providing easy access to the Dallas-Fort Worth metropolitan area and surrounding region. The City is also planning a convention center expansion, more hotel rooms and other nearby improvements.
A memorandum outlining the aspirations for urban campus was signed early in November by representatives of the A&M System, the City of Fort Worth, Tarrant County, and Fort Worth Now, a privately-funded group formed to help businesses and foster economic growth in the aftermath of the COVID-19 pandemic.