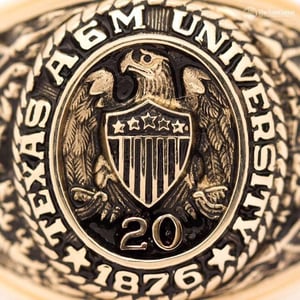 Recent Aggie law graduate Charles Inclan '20 came to Texas A&M School of Law from Presbyterian College in South Carolina. Though he'd heard some rumblings of what the Aggie Network was about, he was unprepared for how soon it would impact him. During his second year of law school, he was coming off the heels of on-campus interviews and reaching out to firms. He was fortunate enough to receive a phone interview with Kirkland & Ellis LLP. His phone interviewer was Aggie Steve Schwarzbach '06, a Georgetown Law alumnus. Steve showed a deep interest in the Texas A&M Law School and the success of Aggie law students. Charles and Steve spoke at length about the rising quality of students and, more importantly, the distinctive character of the students at TAMU Law.
After Charles expressed that his classmates were also interested in Kirkland and passing along their resumes to Steve, at least four other Aggie law students received callbacks to the Houston office within a matter of a week or two. Steve's help did not stop there.
After Charles received an offer, Steve began mentoring him tremendously throughout his summer at Kirkland, and he has continued to provide guidance. Moreover, he has offered help to any Aggie wishing to practice law in Houston, whether big law or boutique.
Assuredly, Steve's interest in and admiration of the core values held by fellow Aggies, as well as his willingness to offer a helping hand, has already played an instrumental role in Charles' career. Even as Charles prepared for the Bar exam, Steve took the time to reach out and offer support. In the age of COVID that has included a cancelled and rescheduled Bar exam with even greater constraints, the support has been more welcome than ever.
On a recent call between the two, Steve mentioned that another Aggie applied for a position with an organization that Charles knows well. Given all of the help Steve has provided other Aggies and Charles, it only seemed right that Charles take a page out of Steve's book and offer help to a fellow Aggie. Accordingly, Charles shared the Aggie's resume with his contact and offered further assistance if needed in connecting Steve with the individual tasked with the hiring.
There is no doubt that Charles has a long-term mentor and friend in Steve. The experience that Charles has had with the Aggie Network provides an energizing reminder of the strength of the Aggie community.