Texas A&M School of Law is home to 10 legal clinics that provide students with the opportunity to apply their skills to work on behalf of actual clients. Clinical work at Texas A&M Law provides hands-on experiences in a variety of practice areas, including family law, veterans law, immigration law, tax disputes, intellectual property and others. Clinic clients include entrepreneurs, nonprofit organizations, government entities and individuals. In recent months, the clinic programs have been growing exponentially in terms of case notoriety, student growth, grants and social media presence.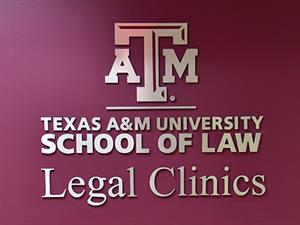 In the last few weeks, the clinics have had two major victories. In a rare move, two clinic clients were given compassionate releases from prison due to COVID-19 thanks to the hard work of Criminal Defense Clinic Director and professor Amber Baylor and her team. The federal system, which houses a relatively small percentage of all prisoners in this country, has a process for compassionate release that pre-dates the pandemic. Historically, it has been nearly impossible to get compassionate release for federal prisoners, and despite the pandemic, the Bureau of Prisons continued to make it nearly impossible to do so. In both instances, some had medical conditions that made them highly vulnerable to COVID-19. If they were to catch the virus, they would not likely survive. Lawyers rarely get to save lives, but in this instance, the clinic team did.
In another notable case, under the leadership of Professor Fatma Marouf the Immigrant Rights Clinic filed a petition in federal court in May demanding that ICE immediately release 11 medically-vulnerable immigrants from the Prairieland Detention Center in Alvarado, Texas. There are at least 45 detained individuals who tested positive for COVID-19. The team was able to work with ICE to set bond. Students working on the case, found the experience to be both educational and life changing.
"I think the most important lesson I have learned so far is how to cope with the trauma associated with legal work. The clients we work with are going through extremely difficult and emotional times in their lives," says Marisela Gonzales '22.
Due to COVID-19, many law students were unable to participate in summer internships, externships, public fellowships and pro bono opportunities. Not wanting the students to miss out on getting an experiential education, the clinic program jumped in and welcomed students, according to Lori Rogde, associate director of experiential education & clinic operations.
They are quickly learning that work in the law clinics is an experience like no other, and the lessons learned are invaluable. This summer, there are three students from Boston University and the University of Denver law schools working on cases at the clinic.
Five years ago, the clinics had roughly 40 students working on cases. Since then, the number has over doubled with 100 students scheduled to work on cases in the fall. Getting all the students into a clinic is a process that involves HIPAA training, conflict of interest checks and getting students set up to work through the university.
In addition to receiving funding from Texas A&M, the clinics also receive funding from various grants.
Earlier this year, Texas A&M entered into a three-year, $525,000 medical-legal partnership with Cook Children's Health Care System in Fort Worth to provide legal services to their patients. Staff attorney Kimberly Stoner works with clients to connect them to the appropriate legal clinic that may provide assistance in their specific cases.
The clinic has also received a $75,000 rural grand that will provide legal services to veterans who live in the rural counties of Navarro, Wise and Ellis. In the past, only veterans in Tarrant County could utilize the clinic services.
The IRS also awards the clinic an annual grant between $80-100,000 to help those with tax issues.
Professor Karen Rowden has recently began posting videos on social media from the Family and Veterans Advocacy Clinic on topics ranging from e-filing, to COVID-19 scams to resources for domestic violence victims.
As Texas A&M School of Law has grown to become a national contender, leaping 23 positions in the latest U.S. News and World Report rankings. Law school leadership believe the clinic program and its successes have been a part of the equation making notoriety possible. As more case successes are being brought to the forefront during these turbulent times, there is only more opportunity to assist the community and provide a top-notch experiences for students.
For more information on the clinics, click here.